Thrills & Chills
A FastPass for all the newest attractions at Orlando's theme parks.
Year after year, Walt Disney World Resorts and Universal Orlando keep us on our toes, revealing slices of info about new attractions and immersive experiences that we can look forward to soon having in our own backyard.
And some exciting things are happening with the biggest announcement being that Universal plans to build an entirely new theme park here in Orlando called Epic Universe. Meanwhile, Disney is revamping Epcot, a transformation that was a long time coming. Of course, Disney and Universal are not the only parks with new attractions. SeaWorld, Wild Florida and others have their own exciting rides and shows to check out. So, grab your FastPass, skip the line and read on to find out what's in store.
WALT DISNEY WORLD RESORT
With the opening of Star Wars: Galaxy's Edge at Hollywood Studios in the rearview mirror, Disney is now focusing on new rides and attractions throughout its four core Orlando theme parks and Epcot will be the one to watch as it goes through what the company has called "the biggest transformation of any Disney park in history."
And after an early hiccup where passengers were stranded in the skies, Disney's Sklyliner gondola system is now making travel around Walt Disney World Resorts easier by connecting Disney's Hollywood Studios and the International Gateway at Epcot with four resorts including Riviera, Pop Century, Caribbean Beach and Art of Animation.
HOLLYWOOD STUDIOS
One of the most immersive lands to be found at Disney's theme parks, Star Wars: Galaxy's Edge opened last August to crowds of waiting fans who got up before sunrise to be first to see this new land inside Hollywood Studios. This new Star Wars-themed land has attractions such as Millennium Falcon: Smugglers Run where riders can come aboard Han Solo's famous starship to help pilot it into hyperspace. Meanwhile, fans of the franchise are also thrilled about being able to enjoy blue milk—a bright blue, sweet concoction that originated from the films.
More recently, Mickey & Minnie's Runaway Railway opened in Hollywood Boulevard just last month. The attraction replaced The Great Movie Ride and it's the first at any Disney theme park to actually star Mickey and Minnie Mouse. In this adventure, guests board a train with Goofy and things quickly get out of hand when the locomotive becomes detached from the rail cars.
MAGIC KINGDOM
Cinderella's Castle is getting an updated façade. Work on the iconic structure has already begun, with the castle's moat having been drained to allow lifts to get up close to the tower walls. The royal makeover will give the castle a fresh look and is expected to be completed this summer.
And work is still moving forward on Magic Kingdom's planned Tron roller coaster, which is modeled after Shanghai Disney's Tron Light Cycle Power Run. The ride will allow visitors to board motorcycle-like Light Cycles for a trip of quick movements and bright lights through the high-tech universe of the cult-favorite science fiction franchise. The tentative opening date is 2021.
ANIMAL KINGDOM
With the 50th anniversary of Earth Day and Animal Kingdom's 22nd birthday this April, the theme park is throwing a big party to celebrate. Starting April 13 and continuing through Earth Day, there will be new entertainment, speakers, specialty food and beverage, limited-edition merchandise and more. The Wild by Nature Speaker Series will allow visitors to hear from the theme park's animal experts and educators, in addition to talks from National Geographic explorers and photographers. And the Disney Conservation Fund will showcase 25 global wildlife heroes who are making a difference in the world.
EPCOT
Disney's Experimental Prototype Community of Tomorrow is moving into the future as the company plans to completely transform the park over the next few years. In place of Future World, there will be three new neighborhoods: World Celebration, World Discovery and World Nature.
World Celebration will have lush gardens, a wishing tree, an interactive fountain, a statue celebrating Walt Disney and a pavilion that will be host to some of the park's signature festivals. World Discovery will be home to Guardians of the Galaxy: Cosmic Rewind, a storyteller coaster featuring everyone's favorite heroes from the galactic Marvel franchise. And, finally, World Nature will allow people to interact with magical water in an attraction inspired by the Moana.
But that's not all that is planned for Epcot. Mary Poppins will be taking her rightful place in the United Kingdom pavilion in all-new supercalifragilistic attraction inspired by her. Although Disney has yet to announce a timeline for this new ride.
We do know the opening plans for the France pavilion's new ride: Remy's Ratatouille Adventure, based on Pixar's 2007 film. Set to open this summer, the ride will shrink guests down to the size of a rat and, aboard a trackless vehicle, you'll scurry across Gusteau's restaurant.
Disney imagineers have also dreamed up a new nighttime spectacular called Harmonious, which will celebrate diverse cultural musicians and artists from around the world. That show is still being crafted but is expected to open this year.
DISNEY SPRINGS
With 13 different activities spread across 44,000 square feet, the NBA Experience at Disney Springs, which opened last August, allows people to experience what it's like to step onto the basketball court. The immersive, interactive activities include court games where you can practice your dunking and an arcade area where fans can play both classic ballgames and the latest NBA video games.
Cirque Du Soleil will also debut a new show at Disney Springs. Taking place of La Nouba, which ran for 19 years, Drawn to Life will honor the animations of Walt Disney. The show was set to begin previews at the end of March but that has now been postponed due to the COVID-19 pandemic.
UNIVERSAL ORLANDO RESORT
Last August, Universal made an extraordinary announcement: the company was going to build a third theme park in Orlando. Expected to open in 2023, Epic Universe will be Universal's third theme park in Orlando and the first to be located away from its other attractions at a site a few miles south of where the current parks are. Universal execs have been mostly mum on what Epic Universe will contain but they did confirm that Super Nintendo World would be a part of it. While this new theme park is the biggest announcement from the entertainment giant as of late, there's still much to come from Universal's other Orlando properties.
UNIVERSAL STUDIOS
Everyone's favorite rogue CIA agent is heading to Universal Studios in an all-new live action stunt show based on the Bourne film franchise. The Bourne Stuntacular promises to be a show that will "blur the lines between stage and cinema" with thrilling chase scenes, fistfights and electrifying stunts. The show will be located where the Terminator 2: 3-D show was and will open this spring.
ISLANDS OF ADVENTURE
Rumblings over at the Jurassic Park area of Islands of Adventure point to a new ride being built.  Although Universal has not announced this new attraction, there is construction going on in the area and Comcast (Universal's parent company) has filed a trademark for "velocicoaster."
CITYWALK
A new restaurant has joined CityWalk's dining scene. Bigfire, which is located next to Emeril's Orlando, features a wood-fire grill to cook up dishes such as Brook Trout, Creekstone Cowboy Ribeye and Grilled Porkchop. Invoking the ambiance of a lakeside summer, the eatery also offers tableside s'mores that diners can put together themselves.
Additional Adventures
GATORLAND
The alligator capital of the world has created a new exhibit tailored to the needs of its white alligators. White alligators are sensitive to direct sunlight, so the park's White Gator Swamp is designed to filter the sunlight, while providing the gators with all the makings of the natural habitat including birds, fish, turtles and frogs. Calling this new swamp home are two male leucistic alligators named Feros Zombi and Trezos Je, one male albino alligator called Pearl, and two female albino alligators, Moonshine and Cottontail. And soon
the exhibit will have some new additions because Gatorland
recently acquired three baby albino gators.
ICON PARK
Adding more attractions to its wheelhouse, Icon Park has begun work on its Orlando Slingshot and Gyro Drop Tower. When completed, the slingshot will be 300 feet tall and will catapult riders 450 feet into the air. Meanwhile, the Gyro Drop Tower will bring riders up to 400 feet into the air before dropping them back to earth at up to 75 miles per hour. Both attractions are slated to open in 2021.
Coming this summer, Icon Park visitors will be able to delve into some optical deceptions when the Museum of Illusions opens its doors. The "museum" includes mind-bending, immersive exhibits such as a vortex tunnel and an upside-down room.
I-DRIVE
It's never been a better time for Central Florida residents to head to the I-Drive corridor for dinner with so many recently added and soon-to-come dining options. At Pointe Orlando, Rodizio Grill is now serving up Brazilian steakhouse favorites. This spring, the plaza will add The Hampton Social, a restaurant specializing in seafood, pizza and brunch. In the summer, expect to see Brother Jimmy's BBQ doling out barbecue, wings and beer to hungry I-Drive diners. And finally, in September, Mexican restaurant Kavas Tacos & Tequila will also join the dining lineup at Pointe Orlando.
Elsewhere, Walk-On's I-Drive Bistreaux & Bar is coming to I-Shops with Louisiana-inspired cuisine. And Mango's Tropical Cafe is adding a "cigar garden" to its building. You can expect Tropical Cigars at Mangos to open this spring.
ISLAND H20 LIVE
Island H2O Live made a splash when it officially opened last summer. And this year will be no different with the water park helping visitors stay cool with its lazy river, languorous lagoon, rapid tube rides and adrenaline-pumping slides. As the temperature in Central Florida rises, the excitement at Island H20 Live does too with live entertainment and fun-in-the-sun parties.
LEGOLAND FLORIDA
Legoland is celebrating the Year of the Pirate with the opening of a new swashbuckling hotel, a number of events and a sea-soaring water show. The Legoland Pirate Island Hotel will have Lego play areas, the Shipwreck Restaurant and in-room Lego treasure hunts. At the same time, the Pirate Water Ski Show Adventure will take over Legoland's Battle for Brickbeard's Bounty, ending the show's eight-year run. The Pirate Water Ski Show will have skiing acrobatics, water stunts and pirate humor. And finally, to coincide with all this freebooter fun is PirateFest Weekends. Starting April 18th, visitors will learn to walk like a pirate with exclusive pirate character meet and greets and resort-wide activities.
SEAWORLD
Located across from SeaWorld's Wild Arctic motion simulator attraction, the park's Ice Breaker Roller Coaster is currently in production. This new coaster, which will open sometime this spring, will have exhilarating twists, turns and a reverse launch into the steepest vertical drop in Florida.
TITANIC THE ARTIFACT EXHIBIT
The most famous shipwreck in history is brought to life at this attraction that features artifacts from the wreck site and full-scale recreations of some of Titanic's most striking characteristics like the grand staircase. Titanic: The Artifact Exhibit also offers a gala on Friday and Saturday nights where guests are invited to a first-class dinner and cocktail party.
WILD FLORIDA
This wildlife park has a new attraction that will bring you up close to more than 100 native and exotic animals. Wild Florida's recently opened Drive-Thru Safari Park is a self-guided, two-mile trek that allows visitors to drive their cars right into the wilderness where they'll find giraffes, antelopes, American bison, mouflon sheep and more. Along the way, you'll be able to exit your vehicle for some animal encounters such as meeting and feeding the giraffes at the giraffe feeding platform.
WONDERWORKS
Imaginations run wild at Orlando's WonderWorks where hands-on science exhibits, games and simulations provide never-ending fun. Here, families can experience the power of hurricane force winds, step into zero gravity in the Astronaut Training Gyro and test their athletic skills with virtual sports.
EDITORIAL NOTE: At the time of publication, many of Orlando's theme parks were closed temporarily to reduce the spread of COVID-19. Opening dates for new attractions in this story may be affected by these closures and it is unclear when area theme parks will officially reopen.
– – – – – – – – – – – – – – – – – – – – – – – – – – – – – – – – – – – – – – – – – – – – – – – – – – – – – – – – – – – – – – – – – – – – – – – – – – – – 
Clint Gamache from Orlando's ThrillGeek podcast gives his advice for residents visiting local attractions and tells us his current theme park favorites.
What are some of your tips for residents who have maybe been to Universal Orlando but don't go all the time?
Ride the Hogwarts Express! Not only is it great for Harry Potter fans but it's an easy way to travel between Universal Studios and Islands of Adventure. If you're going on a busy day, invest in Universal Express Pass. Waits can get 45 minutes plus for some of the more popular attractions. With Express, you'll be waiting very little. … And last but not least, you will save money by purchasing your tickets online and in advance.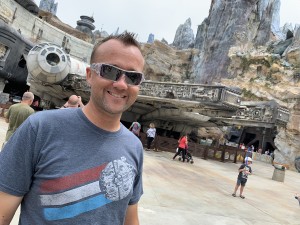 What about Walt Disney World Resorts?
A big ticket to being successful at Disney World during vacation—arrive at "rope drop," or right when the park opens. The first two hours of any park day are when the attraction lines tend to be the lowest. … If you want to get FastPasses for your favorite rides, be sure to book them early. … Mobile order your food to save time. The restaurants can get pretty busy at Disney's theme parks, especially around lunchtime, so use mobile ordering on the My Disney Experience app to save time.
What's your favorite Orlando-area attraction at the moment?
Hagrid's Magical Creatures Motorbike Adventure at Islands of Adventure. This new groundbreaking attraction is incredible from start to finish.
What's your favorite theme park dining spot?
One of my favorite quick-service restaurants is Three Broomsticks, which is located inside Hogsmeade at Islands of Adventure. Aside from the fact that you can grab a Butterbeer, the restaurant features some delicious menu items, including shepherd's pie, fish and chips and bangers and mash.
Outside of Disney and Universal, where should residents looking for a thrill also check out?
You should definitely check out SeaWorld Orlando. This park is home to some of the best roller coasters in the state of Florida. Including the all-new launched coaster Icebreaker, which is opening this year.
This article originally appeared in Orlando Family Magazine's April 2020 issue.