Tickling Florida Lobsters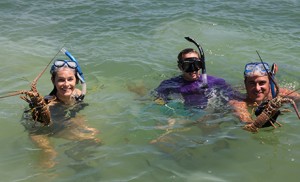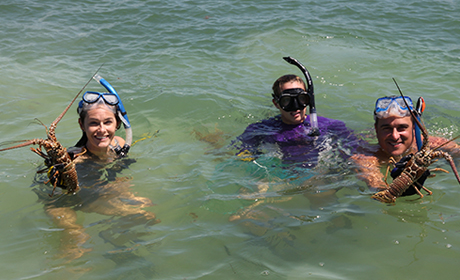 Ready for the great seafood debate? I'm not referring to Manhattan vs. New England chowder, but rather Maine vs. Florida lobster! Our sunshine state has two lobster seasons: a two-day mini recreational season in July (before commercial traps are placed) and an 8-month recreational & commercial season (August-March). According to the Florida Fish and Wildlife Conservation Commission, fishermen (with a valid saltwater fishing license and lobster/crawfish permit) can harvest 6 lobsters per person per day during the regular season in the Florida Keys or Biscayne National Park (other locations permit 12 per person per day during mini season).
On a windy morning in September, my family headed south on A1A to Bud N' Mary's Fishing Marina, established in 1944 at mile marker 79.8 and now home to over 40 offshore captains and backcountry guides, including Captain Sara Michael, a Keys native who specializes in lobstering off her 24' Pathfinder bay boat. "I started my charter business with eco tours, which I still offer, but love to chase lobsters. I've spent a great deal of time finding good lobster spots and can pretty much guarantee that we'll catch a few for dinner," Capt. Sara declared. "Experiencing the beautiful waters and surrounding nature is awesome, and catching lobsters is a fun added bonus."
Unfortunately, the wind created choppy waters which made our hunt much more difficult, but Capt. Sara and her crewmate Capt. Nick Stanczyk, son of Bud N' Mary's owner Richard Stanczyk, were determined to help us succeed. "Calm, sunny days are best for visibility as lobsters like to hide in rocks, crevasses, and coral heads. They are a community-type of animal so if you find one, you're likely to find a group," she said. "Most of our spots are between 7-15 ft. deep so customers should be good swimmers and comfortable holding their breath to free dive for the lobsters."
On-board Capt. Sara demonstrated proper technique using the required gear: tickle stick, net, and lobster ruler. "Use the tickle stick to gently get the lobster to come out from the hole. It's called a tickle stick – not a jab stick – so use soft guidance. After the lobster crawls out, it will swim backward, opposite of what you would expect, so have the net positioned behind him." Reassuring us, "I can do the dirty work with the tickle stick and we'll take a team approach with one or two people ready with nets." Wearing masks and fins, we jumped into the water, then visually inspected rock walls, and jackpot… the chase began! I immediately learned that lobsters are FAST swimmers (and I'm not). Thankfully, Capt. Sara and my husband Paul (a former competitive swimmer) proved to be excellent hunting partners – Sara with the stick and Paul with the net. We kept the ones with a carapace (eyes to tail) larger than 3 inches. Woohoo! Lobster for dinner!
According to Capt. Sara, lobstering is best from August to November since the water is warm and winds are usually milder in comparison to winter. "Lobster excursions are still enjoyable throughout the season, but passengers should plan to wear a wetsuit," she advised. Bookings, secured through FloridaKeysEcoTour.com or (305) 394-1042, are $200 for the first hour and $100 for each additional (2 hr. minimum + deposit required). Licensing, gloves, nets, and tickle sticks for up to 4 passengers are included. Bring your sunscreen, sunglasses, rash guard shirt (if desired), refreshments, and snorkel gear (or rent fins & masks from Key Dives, the onsite tackle shop). Water-lovers (and foodies) of all ages will enjoy diving for the crustaceans, but experienced swimmers will be most successful.
Lobstering is a fun activity for families because it requires teamwork and grants the reward of catching your own dinner! No messy fileting; prep is simply the twist of a tail. As for the great seafood debate, Capt. Sara weighs in, "We eat just the tails of Florida Spiny Lobsters (there are no claws) and the meat is pure white with a mild sweet taste. It's excellent!" Well, I couldn't agree more.