Treasures In The Seagrass
Scalloping Adventures For Your Summertime Family Fun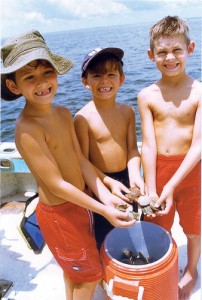 From shopping at farmer's markets to growing backyard gardens, many families are now embracing the concept of fresh and local food. But have you ever imagined diving for your next meal? Each summer, Florida's Gulf coast becomes an epicurean treasure trove inviting foodies and adventurists alike to join in the search for scallops. Part snorkel tour and part fishing trip, these seasonal underwater escapades garner great memories and delicious fresh catch.
Tracy Newton, creator of the website The Scallop Hunter (scallophunter.com), anxiously awaits the start of scallop season each year. "I began scalloping about seven years ago and just fell in love with it," she says. "It's like a giant, underwater Easter egg hunt." Newton's website houses a bevy of helpful tips for families interested in exploring this aquatic adventure. From scalloping destinations to tours to recipes, the self-proclaimed 'Scallop Girl' has compiled all the details one needs to experience scalloping season, which starts July 1 and runs through September 24.
For the novice hunter, you'll first need to know where to find the scallops. The most popular destinations for recreational scallopers are Steinhatchee, Crystal River, and Homosassa, where the Florida bay scallop grows and lives in the shallow seagrass beds common to these areas. Those with a boat and a fishing license can head out on their own, but most families typically book a guided excursion such as the one offered at the Plantation on Crystal River, a family-focused resort hotel located about 85 miles west of downtown Orlando. Known for their up-close encounter tours with the more than 400 manatees that migrate each year to the region, the resort's riverside proximity to one of Florida's best scalloping sites prompted them to launch private scalloping options three years ago.
"We outfit everyone up with wetsuits, masks, fins, and snorkels; then, head out from the resort at about 9 am," explains Captain Paul Cross. Cost of the trip is $300 for up to four people including all necessities, excluding lunch ─ which guests typically bring from the resort's restaurant. Additional people can be added to the tour for $50 each. "We'll spend about four hours scalloping and stop when we've reached our two gallon per person limit or when everyone has had enough sun," Cross says. An unexpected perk of the experience is sightings of dolphins, manatees, and bald eagles ─ common wildlife along the Crystal River.
It's easy to see why scallopers liken the experience to an Easter egg hunt. In salty waters about four to six feet deep, snorkelers with mesh bags begin their quest for the brownish shells camouflaged in seagrass. The forty sets of bright blue eyes that peak out from the shell give them away; and while the scallops are apt to shut their shells and attempt to swim away, the pursuit is likely to go in the snorkelers favor. With a triumphant return to the surface for a breath of air and to show off their treasure, snorkelers then dive back down to the seagrass for another round of man versus scallop.
"Scallops are easy to find once you get the hang of it," says Cross, who loves to scallop in his free time with his three-year-old son, in addition to his work adventures. "The shell itself is very distinctive. It looks like the shell from Shell gas stations." Thanks to the fifty-nine springs that constantly flush water into the Gulf, Crystal River is amazingly clear, so spotting scallops is easier than in other Florida locations. "Plus we can search in waters as shallow as two to three feet deep, which is ideal for younger kids," he says. Since the Plantation on Crystal River trips are private, Cross can tailor voyages to suit the age of children, as long as they're good swimmers.
Families can either shuck the scallops themselves ─ sort of a gory task, but one that few shy away from ─ or pay to have them prepped. Then, chefs at the resort's West 82º Grill can prepare the sweet, dime-sized nuggets any way you want. Cross prefers them butter-sautéed and placed on top of a steak. For those going the DIY route, The Scallop Hunter's website provides shucking and cleaning instructions as well as lots of recipes. "There is nothing like the taste of a fresh Florida scallop," Newton says. "They're so sweet, tender and, just like anything, fresh are best. I could eat them raw because they are so good."
It's only been in recent years that the Florida Fish and Wildlife Conservation Commission has opened up the scallop industry to recreational scallopers. "It was closed for many years due to over scalloping. The State surveys the scallops every year and mandates select areas where scalloping is permitted," Newton says. When it comes to people's reaction to the unique adventure of scalloping, the consensus, according to Cross, is unanimous, "Everyone loves it and says they'll be back next year. It is such a great family activity."