Visitors Welcome
Orlando's tourism industry looks to bounce back from the pandemic.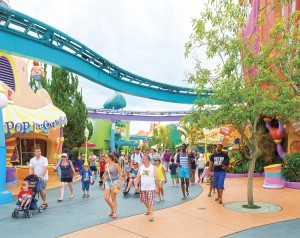 For just about everyone who walks through the gates at Walt Disney World's Magic Kingdom—whether 5 years old or 50, a first-time visitor or an annual pass holder—there is something special about turning the corner on Main Street U.S.A. and approaching Cinderella's Castle. For more than two months, however, the bustling corridor has been empty and nobody has been able to make the journey, as the COVID-19 crisis has forced the longest shutdown of Disney since it first opened its doors in Orlando more than 50 years ago.
Tourism—which is so critical to Central Florida's economy—has taken a serious hit during the quarantine, but there is finally hope on the horizon. Florida has been one of the country's most aggressive states in reopening its economy, and attractions throughout the region are either welcoming guests again already or are poised to do so in the near future.
A nation of people determined to smile and enjoy time with family and friends will surely be looking to theme parks, resorts and other recreational activities to heal from this pandemic, and Orlando is ready to answer the call.
"I feel after the stay-at-home orders, a majority of people are tired of being cooped up and they are ready for a vacation," says Dana Berry, director of public relations at Four Seasons Resort Orlando at Walt Disney World. "Orlando, as the nation's No. 1 most visited destination, should recover relatively quickly. People love Orlando, as this destination has so much to offer. Now more than ever, people are ready to have a fun time relaxing and reveling in the sunshine."
In the week leading up to Memorial Day weekend, Gov. Ron DeSantis and Vice President Mike Pence held a roundtable discussion with local leaders from the hospitality and tourism industry at Rosen Shingle Creek Orlando. Pence took the opportunity to show the White House's appreciation for their efforts throughout the pandemic. "[The decision] that you made to put the health of your employees, to put the health of people who come from all over the world to visit this great city and these incredible attractions, was commendable, and I know it was unprecedented. Your willingness to adhere to federal guidance and make those choices, I think represented the very best of what makes American business special."
DeSantis praised Floridians for their positive handling of his phased reopening of the economy, including restaurants and retail stores at limited capacity at the start. He encouraged theme park owners to submit their proposals for resuming operations, first to be approved by their county mayors and then by the state. "I think that's the spirit that we see in Florida and throughout America; people wanting to get back to business, but obviously wanting to do it in a way that's safe, not only because that's the right thing to do, but that's also what the customers want to see. They want to feel safe when they're going to these places."
It did not take long for the responses to come in. Although Disney World had yet to announce a reopening date as of press time—it was rumored to be eyeing late June as a possibility as it continued to monitor the progress of Shanghai Disneyland—Universal looked to set a precedent. With the approval of Orange County Mayor Jerry Demings and DeSantis, it unveiled plans to reopen Universal Studios, Islands of Adventure and Volcano Bay on June 5. SeaWorld had also submitted a proposal and is likely to be welcoming guests in the coming weeks as well.
Other attractions that opened in late May or had reopening dates set for early June included FunSpot, Island H2O Live!, Legoland, Gatorland and ICON Park.
"We want to invite guests back to our theme parks in a cautious and thoughtful way," Tom Williams, Universal's chairman and CEO, said in a press release. "We have put new health and safety procedures in place for both our team members and guests. And we have worked hard to make sure our guests can enjoy time with family and friends. Doing this the right way will take all of us—and we need everyone's help. Guests should follow our guidelines and continue to follow the recommendations of the CDC and health officials."
Enjoying Attractions in a Responsible Manner
Universal's new procedures, similar to other parks in the area, include the requirement of masks or other face coverings for all employees and guests; temperature checks at the gates, with those at 100.4 or greater denied entrance; reduced daily attendance; reduced capacity on rides and at shows; increased disinfection of ride vehicles, food locations, restrooms and other frequent touch points; and social distancing throughout the park.
Nick Falcone, managing principal of NDM Hospitality—which owns Island H2O Live! and is involved in the operation of Margaritaville Resort Orlando—says his company has also enacted an entirely new set of guidelines. The hotel and cottages at Margaritaville reopened in mid-May with glass barriers at the check-in counters; no hand-to-hand contact between guests and employees; options on housekeeping; and limits on the size of groups that can be together at one time. Sunset Walk, its entertainment and retail center, was following governmental regulations such as reduced capacity at stores and restaurants with outside seating.
As for the water park, every guest and team member must have a temperature check, there is 6-foot distancing in lines and all employees are required to wear masks and gloves. "I can go on and on," Falcone says. "We have about 25 pages of documents on new changes and new processes that are coming because of this situation. We're taking a ton of precaution and I feel we're going above and beyond to enhance our procedures and take them to another level."
Four Seasons, which had yet to announce a reopening date as of press time, has made several updates to its sanitation practices and recently collaborated with Johns Hopkins on a global health and safety program called "Lead With Care."
"Training programs are currently being finalized for each department within the resort," Berry says. "Many [members] of our food & beverage team [have] already undergone extensive training as Plancha Restaurant at Four Seasons Golf and Sports Club is open and serving guests. We are eager to welcome our team back to work, and we feel they are also eager to return, and have a sense of security knowing that Four Seasons is committed to their health and safety."
Old Town never officially closed during the shutdown because six of its restaurants continued to offer takeout and delivery, according to Thearon Scurlock, vice president and general manager. But since those eateries were allowed to provide on-premises service again in early May—first at 25 percent capacity and now at 50 percent—and Old Town's retail stores were also allowed to open at limited capacity, a stricter sanitation program has started. Every other sink in the restrooms, as well as every other urinal in men's rooms and every other stall in women's rooms, has been closed; all of the complex's water fountains have been shut down since they are not touchless; there are hand sanitizing stations throughout the property; doors to shops are remaining open for easy, no-contact entry; and more outdoor seating for restaurants has been added.
"We're also closing earlier—our limited hours are 12 to 9—so our restrooms can be completely washed down and sanitized before we reopen the next day," Scurlock says. "We've added housekeeping staff for that as well. There isn't a huge amount of touch points since we're outdoors, but we're wiping down trash cans and handrails a lot more since we've reopened."
Despite those measures, Scurlock adds that Old Town will not be able to resume its regular event schedule right away. Concerts and karaoke nights may not be back until the fall, but there is hope that car shows can return this summer.
"The state is still asking that people don't congregate in groups larger than 10 and we're trying to be respectful of that," he says. "We're looking to get back to full events by October—it's going to take a little while. I would anticipate we'll have the car shows back this summer on Fridays and Saturdays. … We have guidelines in place for the car shows. Before they would park right next to each other and now they'll park in every other space to keep more distance between the cars, and that way when people are looking at them they're not as close to one another."
Another major piece of the area's tourism and hospitality industry is the Orange County Convention Center (OCCC), the second-largest convention center in the country. According to Mark Tester—who took over as executive director earlier this year, just before the pandemic—the OCCC had 21 rescheduled conventions with an estimated economic impact of $379 million and 30 cancellations with an estimated impact of $271 million as of May 21. The OCCC is expecting to host its first convention since the shutdown this summer.
"When the crisis first began, we were in constant communications with clients and planners about our procedures to keep the campus clean and safe for our employees and guests," Tester says. "Each client is unique so we have worked individually on a case-by-case basis on rethinking their conventions for the future. … Our goal, if possible, is to get them rescheduled for later this year or in 2021, depending on what they are looking to do.
"Right now, our calendar is strong from the summer to the end of the year," he continues, "so we look forward to being able to host incrementally modified events as we follow recommendations from the Orange County Economic Recovery Task Force."
The OCCC has found other ways to contribute to the region. Food from canceled events has been donated to local organizations, and in partnership with the Florida Division of Emergency Management, the Florida National Guard and Orange County Governments, its off-site parking lots have been used for COVID-19 testing sites. Initially the number of tests was limited to 250 per day for first responders and people over 65 who had symptoms, but recently some of those restrictions have been lifted by the state and up to 750 people per day are able to be tested.
"The testing site is in a very large, remote parking lot away from our facilities," Tester says. "Recently, the site also began to provide antibody testing for first responders and health care workers as well. As of May 18, almost 18,000 COVID-19 tests and about 1,000 antibody tests for first responders have been administered at this testing site."
Hoping to Bounce Back Soon
While many people are eager to start resuming normal activities like visiting an amusement park, others will be hesitant about wearing a mask all day or being close to so many other guests. So just how long will it take Central Florida's tourism industry to return to normal?
"It's a challenging question," Falcone says. "As you can imagine, with all of the twists and turns that this pandemic has brought, it's very difficult to project the future. But with that being said, our optimism does come from the fact that it seems like many, many people have a pent-demand to get out because they've been locked up in their homes for such a long time. We know travel will be on the top of people's minds once that feeling of safety and security is back."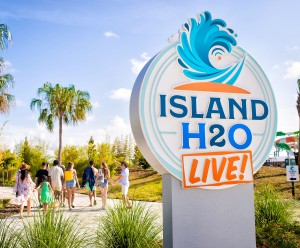 In addition to Margaritaville and Island H2O Live!, NDM Hospitality also runs Encore Resort at Reunion, which has private homes that are rented out in a resort-style format with amenities such as a water park. In June it will also open The Bear's Den at Reunion, a partnership with golf legend Jack Nicklaus featuring a community of upscale homes overlooking the Tradition Course at Reunion Resort. Although Falcone expects group sales to suffer the most post-pandemic, he feels that many travelers will be seeking a way to enjoy the resort experience while also maintaining privacy.
"I think it provides the blend of being able to get out, have fun and have great experiences, but at the same time be able to go back to that place where you feel safe, you're away from the crowds and you're with your family in a secure environment," he says. "That's a big part of our product that we're really confident is going to put us in a position to attract a lot of people and provide what they need during this tough time."
Old Town does not have any national stores or restaurants and consists of local mom-and-pop businesses. The privately owned company has been offering tenants various programs to keep them on their feet, but Scurlock knows they need the public to return.
"Many of these tenants own the store and work the store and it definitely hits a lot closer to home," he says. "I empathize with them and it's on my mind all day, every day. But I think we see the light at the end of the tunnel. Being able to reopen, although it's limited, gets us at least moving in the right direction. May is not a great month in Orlando anyway, so we're really focused on June and July with the hopes of being able to operate at 100 percent [soon]."
Scurlock is looking forward to the reopening of Disney's resorts because of the traffic it will drive to Old Town. He says in normal times, the center draws about half of its customers from the region and the other half from travelers, but it will be skewed in favor of local visitors for the time being.
"We think 2021 [is when the industry will bounce back] from a travel perspective," he says. "We're looking at not as strong of a summer, but certainly it will be getting us well on the way. My guess and our company's estimate is a 12- to 18-month full recovery."
While places such as Old Town rely on the local market, will the titans like Disney and Universal still be able to attack out-of-towners? Dom Reitano, a New Jersey resident, has been a member of the Disney Vacation Club for 12 years and purchased an annual pass to the Disney parks last August. He has already brought his family of five to Florida twice within the last year and is scheduled to use the pass one final time this August.
"We're still holding out hope, but the more and more I think about it, I don't know if it's going to happen," he says. "I want to go, but I'm concerned. You hear all the time about kids getting sick now. Who knows who to believe?"
Reitano and his wife have three sons, ages 10, 7 and 3. While they are fans of Disney Springs—which began a phased reopening in mid-May—they will not be making the trip unless the parks open in time. Even then, he is worried about such issues as wearing a mask all day in the Florida heat or not being able to have the full experience.
"I can wear a mask—I'm used to working outside," says Reitano, who owns a landscaping business. "But it's going to be brutally hard for my kids. I don't know how you tell a 3-year-old that he has to wear a mask. Even the older ones are going to find it difficult, because of how hot and sticky it is there.
"My kids are also still into the characters, especially my 3-year-old. … There's no contact, so that's a shame for them. Not to have that interaction is going to be hard. If this was the first time going for my kids, I wouldn't want to go. I want to see their face light up when they're giving Cinderella or Snow White a hug."
Whether Reitano is able to visit this summer or not, he has no doubt that tourism in Florida will soon be back to its previous might and looks forward to returning. With leaders in the industry adapting to the changes the coronavirus has brought, his optimism is not unfounded.
"Even with reopening, we have to understand that the virus has not gone away," Scurlock concludes. "It's important to do everything that you can, and not only personally. We're responsible for a lot of people and we take that very seriously. We want to do everything we can to ensure that they're as safe as they can be."

This article originally appeared in Orlando Family Magazine's June 2020 issue.