Wild Wild West
Three Family Summer Adventures Of A Lifetime
It's time to plan a wild family vacation…Wild West style! Your trip can begin with truly adventurous modes of transportation ─ whitewater rafts, trains, or vintage wagons ─ that offer a whole new vantage point of the mountains, canyons, plains, and deserts that shape the iconic Midwestern USA. iPhones and WiFi will soon become a distant memory as you knock the Grand Canyon, Jackson Hole, and other scenic treasures off your family's vacation bucket list. So, choose your preferred motion to create Wild Wild West commotion!
Rafting the Salmon River
Starting in June until mid-September, Action Whitewater Adventure (RiverGuide.com) takes families on five-day trips down the Salmon River, which flows 425 miles through central Idaho and serves as the dividing line between Mountain Time and Pacific Time. While these rafting trips traverse class three and four rapids along a 90-mile stretch of the Salmon River and are designed to give people a daring escape from urban living, you'll hardly be roughing it. Owner Verle Duerden has made sure all the amenities are as luxe as they come.
"We have four-man tents for every two people, outfitted with cots and deluxe sleeping bags," says Verle, who has been rafting the river since 1958. "And the food is out of this world." Besides a bevy of snacks, rafters are cooked three full meals a day, all prepared Dutch oven-style, including NY strip steaks, baked cobblers, and made-to-order breakfast omelets. "A lot of people think they are coming for beans and hot dogs and are pleasantly surprised by how well we feed them," Verle says.
All those lavish calories are burned off while conquering the river on a raft or kayak, or swimming and hiking during riverside stops. Participants, required to be at least six years old, hit the river each morning after breakfast, break around noon, and then raft on until around four in the afternoon when they set up camp. "The water is warm, so it's comfortable for swimming. Plus we mix in a lot of side hikes, including a visit to a hot spring," Verle describes. Evenings are spent around the fire, free of the peskiness of cell phones, as well as mosquitos, which don't seem to gather on the Salmon River.
To begin the trip, families fly into Boise, Idaho, and grab a charter flight to the Salmon River. Cost, excluding air transportation, is $1,490 per adult, and $995 for kids 16 and under.
Wyoming by Wagon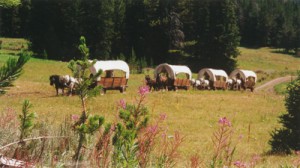 Spend a few days in the foothills of the Rockies with Wagons West (WagonsWestWyo.com), providers of a wagon and horseback trek through the historic frontiers of Wyoming. On these two, four, and six-day voyages, which depart from just outside of Jackson Hole, families amble along a remote trail within the Bridger-Teton National Forest and Mount Leidy Highlands dotted with bubbling streams and grassy meadows set on fire by the glow of wildflowers in full bloom.
Throughout the day, participants have the option of traveling by wagon or by horse, allowing adventurers to veer off the path and explore the backcountry landscape which is home to moose, mule deer, coyotes, and bears. Each night, the posse of travelers gathers by the chuck wagon where chefs stir up a gourmet meal filled with hearty fare such as homemade bread, cowboy potatoes, and roast beef. After dinner, folks gather around the fire for s'mores and campfire entertainment, including singers, storytellers, and cowboy led instruction on how to crack a bullwhip.
Saddle up for the Wagons West trek of your choice this summer, beginning August 5th and 12th. Cost is from $470 per adult, $395 per child, and free for kids under three.
The Grand Canyon Train
Seeing the Grand Canyon is a dream come true for most families, but getting there aboard the Grand Canyon Railway (TheTrain.com) sets the fun factor to full speed ahead! Chugging along the Arizona landscape 365 days a year, this classic train trip departs from Williams, Arizona, and parlays the 2-hour, 65-mile journey to the Grand Canyon into an authentic experience complete with vintage parlor cars offering five classes of service, including a deluxe parlor car with an open-air observation platform at the rear.
"We are truly offering a Wild West vintage experience," says the Railway's Stephen Pelligrini. "We put on a wild west skit with our in-house actors, who become a band of horse thieves thwarted when the marshal shows up to save the day. And we have musicians that play about 20 minutes in each car." With Williams in the train's rearview mirror, the prairie landscape fills with ranches, grazing cows, and wide-open spaces in the shadows of the Williams' peeks. "On a clear, sunny day, you can see every single mountain within 100 miles," Stephen says.
Upon arrival at Grand Canyon Depot at 11:45 am, travelers have the choice of spending a few hours exploring the Grand Canyon National Park, or checking into the Grand Canyon Railway Hotel ─ both reachable by foot ─  for an all-inclusive, multi-day adventure complete with round-trip train travel, meals, and a guide-narrated "Grand" motor coach rim tour. "Sure, if you take a car to the Grand Canyon, it'll be a shorter trip," says Stephen, "but you really will miss one of the best parts ─ the journey there!"