Purr-fect Holidays For Pets
Local experts share tips for boarding your pets and bringing home new ones during the holidays.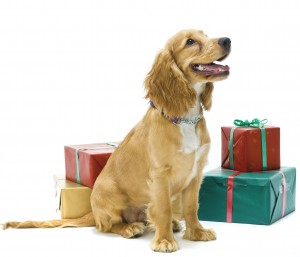 Do you plan to board a pet before going over the river and through the woods to grandmother's house this holiday season? Or perhaps you're thinking of welcoming a new four-legged family member during the maelstrom of activity and visitors that usually occurs during the holidays? As it turns out, both can be stressful propositions for your furry friends.
"A puppy should be treated like a newborn baby," cautions Marcia Gail Mobley, a labradoodle breeder and owner of Orlando's Bay Lake Doodles. "It should not be chaotic when a puppy enters the home."
Karina Pastrana, manager and cofounder with husband Michael of Orlando's Happy Paws Pet Resort, has similar warnings for those who board. "You go on vacation, you want your pet to go on vacation," she says. "You don't want to come home to a dog that's totally stressed out, lost weight, hair missing—all that stuff."
Fortunately, local experts say that a little common sense can do much to put current and new pets alike at ease. From tips on making sure your new companion can have the happiest possible arrival at its forever home, to easing a furry friend's worries when you're forced to leave it behind for an extended period, these pros have you covered with advice that can make the holidays purr-fect for everyone involved.
Now Boarding
If you need to board your pet during the holidays—or any time of year, for that matter—preparation is key. "You should probably start planning what you want to do, or where you want to go to place your pet, about four to six months before," says Pastrana.
The reason being, every boarding service has its own time frame for accepting reservations, as well as different requirements for vaccines. But as Pastrana notes, planning so early has a big benefit. "It also gives you the chance to really look at what options are out there," she says.
In the same vein, Anna Waldrop, general manager of Orlando's Dog Day Afternoon, recommends scheduling a few practice days before your vacation so your pet can get used to the facility and staff. "That way they will have a few friends when they stay and be more comfortable while you are away," she says.
Planning should, however, involve more than picking out a suitable facility. "Make sure you bring plenty of your dog's food," says Matt Fitzgibbon, head of business operations at Central Florida K-9. "I know that sounds like a no-brainer, but a lot of people have dropped off dogs with no food or anything. That's going to make for a miserable trip for your dog."
Bringing enough of your pet's medicine—both regular pills and anything they might take periodically—is equally important. And when it comes to food and medicine, it's better to bring more than enough. "You never know what might happen over the holidays," says Waldrop. "You might be enjoying your vacation so much that you want to stay another day, or your flight might be delayed." Furthermore, it's a good idea to mark food and medical supplies with your pet's name.
Give the service written details about any and all medical conditions, too, as well as your vet's contact info—and vice versa. "If you do decide to board," says Pastrana, "contact your vet and let them know where you're boarding at, so in case anything were to happen and we call your vet to talk about it, at least they have an understanding that it's OK for us to have an open dialogue about any concerns we might be seeing."
These experts also suggest providing contact information for someone local whom you trust to deal with any emergencies that might come up. "If your dog got sick, and [the boarding service needs] to take it to the vet," says Fitzgibbon, "make sure there's somebody who could give authorization to do that."
Don't forget the toys, either—as long as they're not new. Per Fitzgibbon, "Only bring the toys or the things that your dog or cat is normally with and around, and that you feel very safe to have in their kennel with them."
Finally, keep your pet's needs in mind. An older pet with medical issues should probably be boarded at a vet, and animals that aren't great socializers are likely better served by in-house sitting than boarding. If you board at a vet, though, make sure they have a healthy dog boarding area. "You don't want your dog to be boarded in the same area where there might be sicknesses and viruses," says Pastrana.
If you go the in-home sitter route, Caroline Kellar, owner of Orlando's PAWSitive Strides LLC pet-sitting and walking service, recommends asking the potential sitter four questions, including: What will they do if they have an emergency, what type of insurance do they have, how will they ensure they don't miss visits with your pet, and whether they can provide you with a background check on themselves or their employees. "My suggestion to you," says Kellar, "is never skip the background-check process."
Home(coming) for the Holidays
Reputable dog breeders and trainers are in agreement that the holidays can be a bad time to add a new pet to your household, but there are ways to minimize the stress. The first step, though, is to think long and hard before moving forward. "Don't just buy a puppy for a Christmas present," says Stacy Alvarenga, owner of The Lords German Shepherds in Clermont. "It's a family member, it's a 10- to 15-year commitment, so don't go out and buy a puppy on the spur of the moment as a present."
While thinking, you'll also want to do some investigative work. "Do all the research you can on the breeds you think you want," says Phyllis Stoltz, a former breeder who now works as a trainer, both privately and in association with Pet Rescue by Judy. "Educate yourself! There are certain breeds you don't want around small children, certain breeds you really don't want around other dogs."
As part of that research, confirm that your HOA, apartment or condo allows pets (when applicable), and also make sure that your home is puppy- or kitten-proof. You'll also want to look into puppy-training classes or socialization groups, especially when adopting a high-energy breed.
Even if you're sure about your decision, families with small children or hectic Christmases in general shouldn't welcome the new family member until everything's back to normal. "You should wait until the day after Christmas or so to bring a pet into the home, because Christmas is very chaotic for most families," says Mobley. "It's a big deal, and it's very confusing and frustrating for a puppy."
If you've decided to turn to a breeder rather than adopting from a rescue, always insist on seeing the parent. "If you see the parents, you know what your puppies are going to look like, what the temperament's going to be like, and those are things that are extremely important," says Stoltz.
Once you've determined what kind of pet you'll be getting, and are sure that there are no obstacles to having a pet in your home, read as much as you can about the breed and how to best provide for its needs—both physical and emotional. Educate yourself on best training practices, potty-training techniques, and any and everything else pertaining to your new pet so as to minimize any fallout down the road. After all, the last thing you want to do is kick an animal out because you didn't know what you were getting into.
"This isn't just a toy that somebody should have and then get tired of," says Mobley, "because these little puppies have feelings." Naturally, the same goes for kittens, too.
Published and copyrighted in Orlando Family Magazine (November 2016).
Local experts share tips for boarding your pets and bringing home new ones during the holidays.