Tales of Triumph
As the advancements in technology and cutting-edge treatments continue to push modern medicine forward, there are plenty of real-life examples of groundbreaking health care happening right here in our backyard. Each year, Orlando Family Magazine looks to highlight shining examples of how the local medical community consistently rises to the occasion and these wonderful stories will introduce you to some amazing health care professionals and the patients whose lives they have forever touched.
Eva Rodriguez-Cordero, Adan Gongora and Mia Isabella
Eva Rodriguezl-Cordero and Adan Gongora were over the moon about becoming pregnant with their first child. Everything seemed just perfect until 16 weeks in when the obstetrician wanted to speak to them in person about some test results. The baby's AFP (alpha feto-protein) levels were higher than normal, and Rodriguez-Cordero was referred to a high-risk clinic.
"I was in tears, just freaking out and I had to pull myself together to go back to work for the day. It was horrible," she says. For nights on end, Rodriguez-Cordero would wake up with panic attacks. Further testing confirmed that her baby had spina bifida, a neural tube defect that develops during the first month of pregnancy when the fetus' spinal cord coverage does not close properly.
Those affected by spina bifida can have different challenges, including physical and mental impairments, depending on the level of the defect. For pregnant women who wish to carry the fetus to term, a postnatal surgery to repair the defect is an option. Rodriguez-Cordero could not bear the thought of ending her pregnancy and was told about a specialist, Dr. Cole Greves, a maternal fetal medicine physician with Orlando Health, who might be able to help.
Rodriguez-Cordero was fortunate to be so close to this hospital system, which became the first in the state of Florida to perform in-utero surgery to repair spina bifida in May 2018. The next closest fetal surgery centers are in Tennessee and North Carolina.
"Fetal surgery for spina bifida is not a cure; it is an option for parents to consider," says Dr. Samer Elbabaa, pediatric neurosurgeon at Orlando Health Arnold Palmer Hospital for Children, one of the most prominent fetal neurosurgeons in the world. "This procedure has been proven to greatly reduce the need to divert spinal fluid from the brain and can improve mobility and the possibility that a child can potentially walk independently or with minimal assistance."
In order to be candidates, the mother and baby must meet certain requirements, and the procedure must be performed between 19 and 26 weeks of pregnancy. Once Rodriguez-Cordero found out she was a candidate, she didn't think twice, even knowing the risks involved.
Elbabaa and Greves play a dual role in this procedure. "Each person has a very critical role and they're uniquely qualified to perform their specific duty," says Elbabaa. "The procedure begins with Dr. Greves opening the mother's abdomen, similar to how he would perform a Cesarean section. He then mobilizes the uterus out and we have to adjust the fetus in just the right position. The uterus is opened just enough to expose the fetus' spine. The next part is my portion of the procedure, which is a form of micro-neurosurgery, where the lights are dimmed and I use a microscope to perform the spina bifida repair, under high magnification. I then hand things back over to Dr. Greves to close the uterus and mom's abdomen."
Rodriguez-Cordero was the fifth fetal surgery case at Winnie Palmer Hospital for Women & Babies. "The true heroes of this journey are the mothers. Their courage, hope, commitment and dedication to help their fetuses whom they never met or touched is a unique bond of motherhood we don't typically encounter," Elbabaa says.
After recovering in the hospital for several days and spending over a week at the Ronald McDonald House, Rodriguez-Cordero was discharged early. She carried her baby for 37 weeks and three days, the longest of the fetal surgery patients so far, and her daughter, Mia Isabella, was born via C-section on Feb. 25.
"She's perfect," says Rodriguez-Cordero. "She's like any other normal baby. … You can't tell anything is wrong with her."
Elbabaa says the medical team is optimistic she will continue to do well with no need for shunt placement in the future.
"I don't know what I would have done if I had to go somewhere else," says Rodriguez-Cordero. "I don't know what the outcome would have been. I won't get tired of telling them thank you for what they did. I look at her and she is perfect and it's because of them."
Maddalena Cason
Like anyone else, Kayla Cason used to get frustrated by life's little annoyances, whether it was an untimely traffic jam or a long line at the grocery store.
But since giving birth to her daughter Maddalena almost two years ago—and witnessing all of the hardships she's had to overcome—Cason has become much more tolerant.
"She pushes me not to give up," Cason says. "After seeing everything she's been through, I don't worry about the little things in life anymore. She's shown me that there's so much more to life and it's amazing."
Maddalena has proven in her brief time in the world that she has a fighting spirit. Cason had preeclampsia and placental abruption during her pregnancy, leading to her daughter being born about nine weeks premature in an emergency C-section.
At first, Maddalena was not breathing and it took about six minutes for doctors to resuscitate her before she was moved to the NICU. Her traumatic birth included a Grade 3 bilateral brain bleed, and her oxygen loss later led to a diagnosis at 15 months old of spastic diplegia cerebral palsy. Cason and her husband were told that Maddalena would be severely disabled and would never walk, talk or eat normally.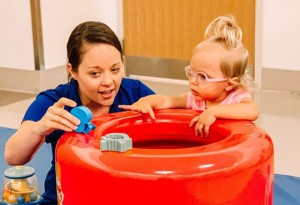 "But she has just wowed us all," Cason says. "She's doing things we never thought she would do. She's now pulling up to stand; she's walking in a gait trainer; she's starting to crawl. All of this started happening when we started at Nemours with their rehab team. She was doing therapy at another hospital but we decided to transfer, and she's just taking off."
Maddalena is taking part in a clinical study with Dr. Ewa Brandys, division chief for physical medicine rehabilitation at Nemours Children's Health System. Focused on intense physical and occupational therapy, the program is designed to help young children with cerebral palsy improve their motor function. In just three months at Nemours, Maddalena has made great strides and impressed her team of therapists with her can-do attitude.
"She's always in a good mood and has a smile on her face," says Allison Hioki, a physical therapist at Nemours. "She loves to interact and participate in what we're doing. She has a stubborn side to her as well— she has figured out ways to move around that are effective for her, and we are trying to make those more efficient and change them, and her stubbornness comes out because she wants to do things her way. But she is definitely one of the happiest kids I have ever treated."
During her two sessions per week, the Nemours team engages Maddalena in play activities and helps her adjust to certain positions, such as working on her foot position and stepping to the side without assistance. Hioki believes she will be walking on her own soon and is looking forward to her reaction.
"Working at Nemours, it makes it hard to have a bad day when you're working with kids all day long," she says. "You're helping them achieve things they weren't able to do before. It's so rewarding when you help them accomplish something to see how excited they get about it."
Cason, an occupational therapist herself, often follows through on certain exercises with her daughter at home and is confident her progress will continue. Whatever comes Maddalena's way, she is sure to take it in stride.
"She's a sassy little thing, but she's as sweet as can be too," Cason says. "That's the thing people point out about her: You'd never know the things she's been through because she's always smiling. She's so strong and she inspires everyone around her."
Russel Hope
More than 2.7 million people in the U.S. are known to have atrial fibrillation (AFib), but because the symptoms often go undiagnosed, that number could be three times as much, according to the American Heart Association.
Atrial fibrillation (not caused by a heart valve problem) creates disorganized electrical signals to keep the heart pumping. Because blood is not flowing through the atria regularly, blood clots are more likely to form, and could lead to a stroke. The most common treatment for AFib is blood-thinning medications like warfarin. The medication can reduce a person's CHADS2 Score, a measure of stroke risk that includes factors such as hypertension, vascular disease and diabetes history. Blood thinners have been proven to reduce stroke risk to 1.5 to 2 percent. However, the longer blood thinners are used the higher the risk of serious bleeding, resulting in hospitalization and could be life threatening. For this reason, many people on blood thinners choose to live a cautious lifestyle.
The Watchman is a FDA-approved device that is an alternative to a life of taking blood thinners. Dr. Usman Siddiqui with the AdventHealth Cardiovascular Institute performed one of the first implants of the device following its FDA approval and has since implanted it on several patients. Clinical trials showed that nine out of 10 people were able to stop taking blood thinners just 45 days after the procedure.
"Most stroke-causing clots in these patients [with AFib] occur in the left atrial appendage," says Siddiqui. "The Watchman plugs up that structure and prevents the clot from forming. This device has full approval as an alternative for patients who do not want to be on anticoagulants or are intolerant to them."
Russell Hope, 81, a resident of Groveland, had the Watchman device implanted in January 2018. Before undergoing the procedure, Hope counted Coumadin among the medications he had to take on a daily basis and was particularly careful about his bleeding risk. It's one less thing he has to worry about now. "The thought of worrying about my AFib and my stroke incidences are off my mind. They don't consume me anymore," says Hope. "It's one less pill to take and that's good for me."
Siddiqui says the Watchman device has opened up a whole new field of medicine. "Strokes originating in this part of the heart are particularly devastating in a way that the clots are large and profound," he says. "There are some in high-risk occupations— pilots, armed forces, athletes—who are exposed to high-risk activities, as well as the older population for which this can be a reasonable alternative. I predict the market will be flooded with small, structural heart devices, not just the Watchman."
This article originally appeared in Orlando Family Magazine's April 2019 issue.