Hope on the Horizon
As COVID-19 vaccines are beginning to be distributed in the United States, Central Floridians look towards 2021 with optimism.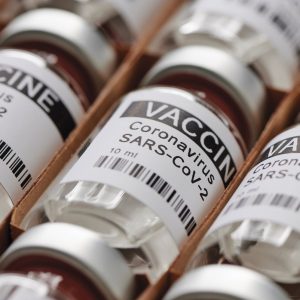 As we present Orlando Family Magazine's annual look at what the new year will bring, the irony of making predictions is not lost on us. Yes, this time last year, we made some prognostications about 2020. At the time, we could have never foreseen the health crisis that would drastically affect all of our lives and kill—at last count—300,000 Americans. Trying to predict the future is a fool's errand, as they say. But as COVID-19 vaccines are now making their way through the United States, Central Floridians can not help but think about what the future has in store for them and express hope that things are brighter beyond the horizon.
Community Health
About 20,000 inoculations of the Pfizer-manufactured COVID-19 vaccine—the first to be approved for emergency use in the United States—arrived at AdventHealth Orlando on a Tuesday in December of 2020. It was a big moment for the hospital system and frontline health care workers.
"There's no doubt about it, the pandemic has taken its toll on our nurses and our front-line workers," said Linnette Johnson, a chief nursing officer at AdventHealth, at a press conference in December. "We are so thrilled and excited about the vaccine. It is the safest way for us to move forward and to keep our communities, our loved ones [and] our colleagues well."
Chief medical officer at AdventHealth Dr. Neil Finkler expressed his confidence in the vaccine's effectiveness. He said he had read the Food and Drug Administration's review of it and that AdventHealth's own scientific review committee had examined the studies on the safety and efficacy of the vaccine as well.
"I personally will receive the vaccine when I am able to," he said at the same press conference.
At press time, the Pfizer vaccine was not available to the general public, rather it was just beginning to be administered to health care workers.
Both Dr. Finkler and Johnson stressed that it is still important for people to wear masks and social distance because the process of creating immunity in the community had only just begun. However, both had plenty of optimism for 2021.
"This is a great day and hopefully the beginning of the end of this pandemic," Johnson said.
When the vaccine does become available to the general population, leaders in Central Florida say they are ready to handle inoculating the community.
In preparation for receiving the vaccine, Orange County purchased a number of cold storage devices, including ultra-cold freezers, because the doses need to be kept at cool temperatures to retain efficacy. The Pfizer vaccine in particular needs to be kept at minus 70 degrees Celsius, which is colder than winter in Antarctica.
Orange County's Director of Public Safety Danny Banks says it was important for the local government to be prepared.
"There would be nothing worse than all of a sudden we're told potentially we could get some vaccines and then we wouldn't be able to take them because we don't have the ability to store them," he says.
Of course, the vaccines will not be sitting in cold storage for long. Banks says the county has plans in place to immediately transition the vaccines out into the community, although he does not have the exact details yet because it depends on the volume that Orange County receives.
After being distributed to health workers, it's expected that those living in assisted living facilities will receive the vaccine, along with emergency workers, police officers and firefighters. When the vaccine is available to the public, Banks says it's likely the county will set up drive-thru vaccination sites similar to what's been done with coronavirus testing.
Banks was appointed to his post as Public Safety Officer by Orange County Mayor Jerry Demings in 2018. He says dealing with the coronavirus pandemic over the past year has been the challenge of a lifetime.
"In this type of role, particularly my role as the public safety director, this is the World Series," he says.
But after a year full of challenges, he has hope that the new year will be better.
"I'm actually optimistic for 2021," he says.
Small Business & Tourism
As 2021 begins, local business owners are in a crunch. While their larger corporate competitors have deep pockets and the ability to wait out an economic slide, many small businesses in Central Florida are struggling with limited resources and the uncertainty of what the new year will hold for them.
Hal Thayer, communications director for the Florida Small Business Development Center (FSBDC) at the University of Central Florida, says small business owners are facing a number of challenges going into 2021. Chief among them is the unpredictability of the future.
"There are changes coming that we can only guess at," he says.
Thayer believes businesses will need to continue to be vigilant about managing the health and safety of their workers, even after vaccine inoculation becomes widespread. And they're operations may also need to continue to evolve to manage such variables as a potentially altered commercial real estate market and the shift in consumer behavior brought on by the pandemic.
Another challenge is access to capital.
"Banks are rightly concerned about what the economy is going to look like next year, expecting it to recover but slowly," Thayer says. "And so they're being very careful in how much they're lending and where they're lending and who they're lending to."
The FSBDC has created a COVID-19 relief program where small business owners can speak with consultants and outside experts about their needs and how to prepare for 2021 by considering the best- and worst-case scenarios.
Thayer's advice for struggling business owners is to ask for help from local government officials and their vendors.
"Call [your utilities provider] and talk about the fact that you're having trouble paying your bill and ask what they can do to help," he says. "Call your banker and talk to them about what your situation is and see if there's any way they can be of assistance in terms of delaying loan payments or other kinds of mitigants."
Thayer says he has no concrete predictions for the new year because there are too many changing factors. What he does know is that small businesses that survive the pandemic will be the ones that can continue to adjust to a changing market.
"What we've seen is that the ones that succeed are the ones that are adaptable and have resilience and fortitude," he says.
Orlando's tourism sector and adjacent industries have been hit hard by the slowdown in visitors to the Central Florida region and the effects have been widespread. Universal and Disney have laid off thousands of workers, restaurants have shut their doors and hotels are operating far below capacity.
"The tourism industry, not just in Orlando, but throughout the world has been decimated," says Abraham Pizam, a professor and chair of tourism management at the University of Central Florida's Rosen College of Hospitality.
And Pizam does not expect 2021 to be the year things rebound.
"It's not just a short impact that will go away when the vaccines are available, it will take at least a couple of years from now for the economy to recover to the same place it was before," he says.
Although pent-up demand could cause a surge of travelers and consumer activity once the COVID-19 vaccine is available to the general population in 2021, Pizam presumes the resurgence to be short lived because there will be a large swath of the population that will be more cautious about resuming their previous activities. Additionally, Orlando's economy cannot recover until much of the world does.
"[The theme parks] will do everything in their power to try and entice the consumer, the tourists, to come back," Pizam says. "But this is not something that you can do here locally. It will have to be nationally. And Disney thrives not on Floridians—it cannot. … They need out-of-state [and] even out-of-the-country tourists to come here."
So, Pizam's hopes lie more in 2022 for tourism and local economic recovery. "It will take some time," he says.
New Government Officials
Central Florida voters had plenty of decisions to make at the ballot box in late 2020. Local races included state representatives, school board positions, soil and water board seats and county sheriff.
Some of the more consequential contests included the election for the Orange County property appraiser in which Amy Mercado defeated two-term incumbent Rick Singh and the race for Orange-Osceola state attorney in which Monique Worrell ultimately prevailed with a platform that called for criminal justice reform.
One other Orange County race that garnered a lot of attention was the contest for county commissioner in District 1, an area that encompasses Dr. Phillips, Winter Garden and Windermere. After just one term in office, incumbent Betsy VanderLey was ousted by political newcomer Nicole Wilson, a lawyer with experience in public interest law. Wilson was sworn into office on Dec. 8th, along with Commissioner Mayra Uribe and Commissioner Emily Bonilla who had both been reelected in their districts.
Wilson says her first priority as county commissioner for District 1 is helping to provide economic stability to people who've been furloughed or have permanently lost their jobs because of the coronavirus pandemic.
"Whatever we can get as far as grants and any kind of relief funds that we can get from the state or the federal government, we will aggressively pursue and make sure to get out to everybody because that's going to be the bridge to whatever is next," she says, adding that in the long term she'd like to focus on attracting higher paying jobs to the area too.
During her campaign, Commissioner Wilson spoke up in support of two county charter amendments on the ballot that dealt with local environmental issues. Both of the charter amendments passed with overwhelming support: 89% of voters said they wanted to prohibit river water pollution and 86% of voters reaffirmed that Split Oak Forest should be protected from development.
The debate over Split Oak Forest had been particularly divisive before the election. In December 2019, the Orange County Board of Commissioners voted to support building a toll road through a portion of the forest. The vote sparked outrage from opponents to the road who said that government officials had pledged to protect the property from development when it was acquired in 1994 and should continue to live up to that promise.
"To see how citizens felt so strongly about those environmental issues, to get that kind of turnout at almost 90%, that's unheard of," Wilson says. "I can carry that mandate with me into every decision-making process, understanding what the voters really prioritize."
She expects the new year to usher in better times for Orange County.
"I think we're at the beginning of the end of the COVID-19 pandemic," she says. "And I hope that the public continues to be patient and use grace with one another as we get safe."
Beyond the pandemic, she says she wants to see a renewed push for sustainability in the county.
"I'm very optimistic that we're going to see, from the top down, big changes," she says.
This article originally appeared in Orlando Family Magazine's January 2021 issue.