Not If, But When
Welcoming the child you've always wanted is possible with the help of Sunshine State Adoption & Home Study Services.
When reflecting on the milestones in your life, there are likely several individuals who helped along the way, guiding you to that accomplishment. Maybe it was a teacher who never gave up on you, a colleague who encouraged you to go for that promotion or a friend who ran those marathon miles with you. For people who want to start or grow their family through adoption, Debra Hewitt is prepared to be by their side.
"The adoption process is one of the most frustrating journeys I ever endured, but it was all worth it thanks to Debra," says K.F., a client. "She was there every step of the way; always positive and supportive, even during those times when I doubted I wanted to continue. In fact, when I was most doubtful that I would ever be able to adopt, Debra found an amazing young man that needed a dad, and all thanks to her, I have never been happier with an awesome new son."
Hewitt founded Sunshine State Adoption & Home Study Services in 2010. Not only has she worked with adoptive families throughout her career, she and her husband adopted three children of their own. Having experienced the process from both sides, Hewitt knew things could be improved upon.
"When we were going through our home study before adopting, it was a tedious process and took months to get our report back. I remember thinking it could be streamlined," she says.
A home study is one of the first steps in any adoption. "People shouldn't worry about someone coming with a white glove for inspection—it's about the family who lives there," Hewitt explains. Home studies are conducted by a professional who is licensed by the Department of Children and Family Services, and consist of interviews with family members, background checks (such as child abuse clearances and criminal record checks), a review of finances, employment and health records, references and visits to the home.
One of the ways Sunshine State Adoption & Home Study Services has made the process easier is by providing forms and paperwork on its website. "Everything they need to fill out to get started is online, so even if they decide one night at 11 p.m. that this is what they want, they can go on and get started immediately," Hewitt says.
"After we meet and have all the paperwork completed, we can have the home study typed up and ready within a week or so. That's one of our biggest differences—people aren't going to be waiting months. We can have them ready within 30 days from beginning to end and get them into the adoption pool sooner."
Hewitt's agency even kept pace during the pandemic. "Starting the home study process in the middle of the pandemic was something that made me think we might experience a significant delay in being approved, but from the first call Debra set a timeline that exceeded my expectations and helped us move forward on our journey confidently," says K.W., another client. "I was quite nervous for our home visit but with Debra it was a very pleasant experience. We especially appreciated all of the wisdom, educational resources and support she provided us along the way. We look forward to our post-placement visits once we are matched and bring a baby home."
Not only does Hewitt have experience as an adoptive parent, but so do all of the social workers on staff. "We know personally where our clients have been and that feeds our passion," she says. "They are not just a number to us—in fact they have our cell phone numbers and when they reach out, we return calls on the same day." The agency serves the entire state of Florida and does not charge any travel fees.
During the process, Hewitt and the other social workers at Sunshine State make sure to educate families and individuals, especially when it comes to being matched.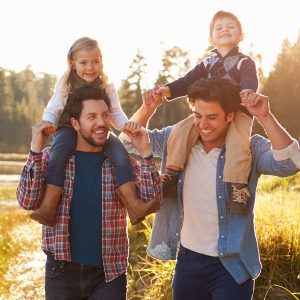 "Adoption is not a competition. That's one of the misconceptions," she says, adding that each adoptive family makes a profile book that birth mothers look through. "Birth moms have things in mind they are looking for, it could be same-sex couples, single parents or active families who go to Disney frequently. It's a wide variety of factors."
Once that baby finally comes to them, there is never any doubt it was meant to be. "For families who do wait for a match, when they get picked they always say the wait was worth it. Everyone ends up with the child they were meant to have," Hewitt continues.
Throughout her career, Hewitt has helped place over 2,000 children into loving homes, and nothing is more rewarding than having families come back to her to adopt a second or even third child.
"My husband and I had the pleasure of meeting Debra in 2017 for our first adoption home study. We've since then adopted two more beautiful children in 2018 and 2020 with the home study completed each time by Debra," says J.B. "I couldn't have found a more thorough and sincere agency to complete all three of our home study services. I'll be grateful to Debra all my life for helping me complete my family."
Sunshine State Adoption & Home Study Services
1344 Vassar Street | Orlando
407-422-9136 | SunshineHomeStudy.org
This article originally appeared in Orlando Family Magazine's November 2020 issue.