Turning Frowns Upside Down
Education is a big part of any dentist's job, and it's one that Dr. Peter Chen, DMD, MMSc, wholly embraces.
Dr. Chen leads the dedicated team at Advanced Endodontics, where he's owner and CEO. Their main focus includes not only treating aches, pains and emergencies with state-of-the-art technology and exceptional care, but also preventing any future issues that may threaten the long-term health of their teeth by sharing in-depth insights and guidance for dental care. 
And one of the most crucial pieces of wisdom the doctors at Advanced Endodontics can share is the importance of preserving one's natural teeth.
"Nothing can replicate the feeling of the functioning of your natural tooth," he affirms, adding that he and the Advanced Endodontics team caution against extraction, despite many believing it's a better or more affordable option. "Missing teeth encourage your other teeth to shift position, affecting your ability to chew appropriately, smile or speak correctly. … Replacing an extracted tooth with artificial teeth requires multiple visits to dentists' offices and substantial expenditure, and missing teeth can result in bone loss."
Explaining exactly what an endodontist both is and does is another question Dr. Chen and his colleagues field. In brief, they're dentists who specialize in diagnosing and treating issues targeting the tooth's pulp, as well as nerves and tissues around its root, and can typically perform procedures like nonsurgical root canal treatments and endodontic surgeries.
"All endodontists are dentists, but fewer than 3% of dentists qualify as endodontists," Dr. Chen says, adding that "endodontists refer to themselves as specialists in relieving pain and saving teeth" for the focus they place on preserving an infected tooth with treatment. "Endodontists are specialists in their field, like any other doctor, and have received an additional two to three years of education beyond dental school. The additional training they receive is on identifying tooth pain, root canal therapies and other treatments related to the insides of the tooth."
Dispelling potentially dangerous myths about root canals is a critical part of Dr. Chen's job, too, as some of those imaginary hurdles are built on all-to-real—yet outdated—fears that the public often harbors about anything more intense than a routine cleaning. 
He explains: "Before the advent of modern dentistry and use of cutting-edge anesthetics and other technological tools, root canal therapy may, indeed, have been an uncomfortable proposition; today, however, having a root canal performed is no more painful than the process of having a filling placed. Endodontists have been expertly trained in pain management to ensure that the root canal procedure is conducted with zero to minimal pain."
Another misconception Dr. Chen is happy to correct is the investment of time required for a root canal, both in terms of the actual procedure and recovery time. Neither, he notes, will eat into a busy individual's packed schedule. 
"Visiting an endodontist doesn't need to be a full-day event," he says. "Many patients are surprised to learn that the recovery times of endodontic procedures are quite quick. While it is recommended for patients to avoid strenuous activity immediately after a root canal, they can go on with everyday activities. … It's not uncommon for patients to go straight to work after seeing us for treatment."
For those who fear that a root canal is "simply a temporary fix and that the tooth will require increasingly invasive dental treatments down the line," those same 21st-century advancements that make endodontic treatments less invasive, quicker and easier to recover from also make them a more long-term solution.  
"The endodontic treatment of teeth through root canal therapy typically provides long-lasting results—even as long as a lifetime," says Dr. Chen, adding that patient education further ensures the lasting effectiveness of an Advanced Endodontics treatment. "What is critically important is to ensure that the final restoration to the tooth—the crown—is well made and well-fitting and that good oral hygiene is practiced, ensuring the preserved tooth is cared for properly after the procedure."
Treating current maladies, preventing future infection and educating patients on how to achieve the best oral hygiene isn't just beneficial when it comes to avoiding tooth pain or sidestepping unnecessary extractions. There are a host of accompanying health issues that can arise as the consequences of poor dental health, ranging from increased risks of Alzheimer's disease and diabetes to respiratory problems and even heart disease.
Staving off not just oral but overall health issues is greatly assisted by modern, cutting-edge tools and technology, which "have revolutionized endodontic care" at Advanced Endodontics. The team has incorporated a dual-light laser into many of its treatments, with those laser-assisted procedures both allowing for more successful outcomes and accelerated healing times that include minimal, if any, discomfort. 
"Laser-enhanced root canal treatment has dramatically increased our ability to better clean and disinfect even the most complex root canal systems," Dr. Chen says. "Our Erbium energy laser creates microexplosions that propel antimicrobial cleansing fluids through the entire canal system. … The laser pulse creates deeply penetrating shockwaves within the cleaning and debriding solutions in the root canal.
"We are able to utilize Low Level Light Therapy or photobiomodulation  to reduce pain and speed up healing," he continues. "Using the laser light works by increasing the cells' respiratory chain molecules in the mitochondria."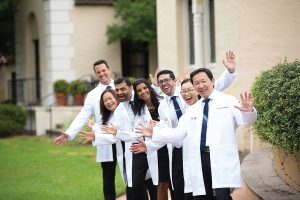 And with Advanced Endodontics' multiple locations throughout Central Florida—the practice's five offices can be found in Clermont, Lake Mary, New Smyrna Beach, Orlando and Winter Park—its team can be right there to ensure that an unexpected situation doesn't escalate into something even scarier. 
"When you least expect it, a dental emergency happens: Whether it's a cracked tooth, a knocked-out tooth or extreme tooth pain, time is of the essence," notes Dr. Chen. "Having five locations enables us to provide same-day dental emergency care when it is needed the most."
Positively impacting as many people as possible is important to Dr. Chen, as his endodontic career was inspired by a desire to administer immediate relief and alleviating treatment to the patients in his care. Growing up in a country where preventative dental care was eschewed and a dentist's intervention was only sought when the discomfort became too much, it was his mission to help others realize they don't have to learn to live with tooth pain. 
Dr. Chen received his bachelor's degree in physiology from Boston University before launching into his doctorate years at Tufts University of Dental Medicine and Harvard School of Dental Medicine, earning a certificate in endodontics and master of medical science in oral biology. A practicing endodontist for nearly 20 years, Dr. Chen still strives to make every root canal treatment better, faster and more pain-free than the last.
But caring for others goes well beyond treating Advanced Endodontics' patients. Like his teammates, Dr. Chen is active in the community, volunteering with the likes of U.S. Hunger (formerly Feeding Children Everywhere) and the Ronald McDonald House, in addition to providing charity dental work to underserved communities throughout the year.
"It is not just serving the community with the best endodontic care, it is also about being part of the community," he observes. 
Providing Central Florida with high-quality, attentive and deeply personalized dental treatment is the biggest part of Advanced Endodontics' mission, and growing its talented team ensures that every single patient feels seen, understood and heard. Dr. Chen is thrilled to welcome Dr. Mahmoud Mona as the newest member of the team. 
"Dr. Mahmoud Mona has a genuine passion for root canals and was attracted to the way Advanced Endodontics is advancing endodontics and the patient experience," Dr. Chen says. "Dr. Mona is humble and has an amazing way of putting the most anxious of patients at ease while making sure he provides the best work and outcome." 
Dr. Mona exemplifies the entire Advance Endodontics team's dedication to their patients, which is at the heart of the practice's philosophy. 
"At Advanced Endodontics, it's truly all about the patient and ensuring dental health focused around our mantra of 'comfort, care and convenience,'" affirms Dr. Chen. 
And being at the helm of a practice that prioritizes the patient experience and their overall health while making endodontic care accessible is what made Dr. Chen and his team easy choices for Orlando Family Magazine's 2022 installment of Top Dentists.
"I know going to the dentist is not how we want to spend our day and everyone's time is valuable, so I do whatever I can to get patients back to their everyday lives as soon as possible," he says. "Seeing patients' faces turn from frowns to smiles after treatment always brightens up my day."
Advanced Endodontics
Locations in Lake Mary, Orlando, Winter Park, Clermont and New Smyrna Beach
(352) 404-5550
INeedARootCanal.com