Family First
We take a look at some of the key issues facing parents today and speak to the experts who can help navigate through the uncertainty.
For our second annual parenting guide we wanted to focus on areas that hit close to home for many households: family fun, education, health care and special needs. As a parent, it's easy to feel the weight of every decision you make concerning your child's future, which is why we tapped some of the area's knowledgeable resources to help uncover what you need to know so you can breathe a little easier.
FAMILY FUN
Educational Experiences For Your Staycation
During the summer break, many students experience a phenomenon known as the summer slide or the summer brain drain, where they lose some of the knowledge and skills they gained in the previous school year. In fact, one study found that the average student will lose up to a month of learning from the previous school year.
To stave off this learning loss, we put together a list of nearby educational experiences that mix learning with fun and are tailored to whatever your child may be into. Perfect for families who are staycationing this summer, the attractions below will give you and the kids plenty to learn about and enjoy together.
For the Kid who Loves Animals
Central Florida Zoo & Botanical Gardens
With up-close animal encounters and plenty of opportunities to learn about native critters and exotic wildlife, the Central Florida Zoo & Botanical Gardens is interactive enough to keep the little ones entertained and pedagogic enough to also impart some zoological knowledge upon the family. Be sure to catch one of the Keeper Chats, where the zoo's expert animal care specialists tell you all about certain animals. Keeper Chats happen daily throughout the zoo. Sanford, open daily from 9 a.m.to 5 p.m., adult admission is $19.50, children ages 3-12 are $13.75
For the Kid who Loves Space
Kennedy Space Center Visitor Complex
Witness the magnanimity of the iconic space shuttle Atlantis, learn about the race to the moon and revel in man's yearning to explore the unknown at Florida's gateway to space. The Kennedy Space Center is currently celebrating the 50th anniversary of NASA's Apollo program and in honor of the milestone will be hosting a number of celebrations during the month of July, so be sure to check the center's calendar before your visit. Merritt Island, open daily from 9 a.m. to 7 p.m. in July and August, adult admission is $57, children ages 3-12 are $47
For the Kid who Loves Water
Clearwater Marine Aquarium
Visit the home of Winter the Dolphin, the Atlantic bottlenose dolphin with a prosthetic tail and star of the Dolphin Tale movies, at the Clearwater Marine Aquarium. Here, you and the kids can learn all about the importance of conservation, while viewing sea turtles,
stingrays, sharks and other sea creatures. The aquarium also has daily interactive educational presentations including feeding opportunities for an extra fee. Clearwater, open daily from 10 a.m. to 8 p.m. during the summer, adult admission is $26.95, children ages 3-12 are $21.95
For the Kid Interested in Science
WonderWorks
The distinctive upside down building on International Drive is full of educational entertainment and more than 100 hands-on exhibits. At WonderWorks Orlando, you can experience a category 1 hurricane, create bubbles the size of basketballs and examine the surface of mars, among many other interactive exhibits. To top off a day at this attraction, catch The Outta Control Magic Comedy Dinner Show, which combines magic, impersonations and improvisational comedy for a performance that is suitable for all ages. Orlando, open daily from 9 a.m. to midnight, adult admission is $31.99, children ages 4-12 are $21.99, Outta Control Magic Dinner Show tickets sold separately
For the Kid who Likes History
Titanic The Artifact Exhibition
The story of the Titanic fascinates people of all ages and so it's no wonder Titanic The Artifact Exhibition entertains the whole family. Here you can explore full-scale recreations of the ship including the grand staircase and view more than 400 artifacts and historical pieces while tour guides dressed in 1912 period clothing tell you all about the ship and its maiden voyage. Orlando, open from 10 a.m. to 8 p.m. Sunday thru Thursday and from 10 a.m. to 6 p.m. on Friday and Saturday, adult tickets are $21.95, children ages 5-11 are $15.75
For the Kid who Loves the Outdoors
Bok Tower Gardens
This historic landscape garden offers beautiful blooms, bird watching, scenic trails, a majestic bell tower and more. Bok Tower Gardens also features three acres of nature play specifically designed for kids at the Hammock Hollow Children's Garden, where kids can climb, dig and run around. For an educational exploration, ask the information desk for a Discovery Backpack, which features activities and items to help kids learn about nature and explore the park. Lake Wales, open daily from 8 a.m. to 6 p.m., general admission for adults is $15, Children ages 5-12 are $5
EDUCATION
Effective Strategies For Reading With Your Kids
Although much emphasis has been put on developing reading skills in school and at home, many children are still falling through the cracks.
The Florida Department of Education recently released student scores for the Florida Standards Assessments third grade reading exam and only about half of Central Florida students passed the exam, a pass rate that holds steady with previous years. Specifically, Orange County third graders had a passing rate of 55%, Seminole County students gained two percentage points with a 67% passing rate, and Osceola County held steady at 51%.
To make sure your child doesn't fall behind, he or she should be reading every day and there are several strategies you can adopt at home to make sure this happens.
Every Minute Adds Up
Education leaders stress that parents should strive to read with their child for 20 minutes a day but that is not always realistic for a busy family.
Laura Fisher, family literacy manager for the Adult Literacy League, says busy parents should just try to do their best by seizing upon even little bits of time every day to engage in reading with their kids—even if that means just five to 10 minutes.
"We really encourage our parents to incorporate it into their everyday life," she says.
Create Reading Rituals
Laura Morton, youth education specialist for the Orange County Library System, says parents can create rituals to help make sure reading happens habitually at home.
"Make a special time that you read every single day or if your schedule is crazy, make a special place that you have in your home or a location that you go to," she says.
Wherever you designate as the reading spot in your home, you should limit distractions and make it a quiet, comfortable space.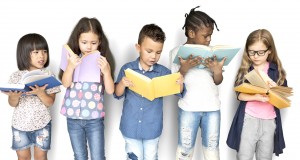 Make it Tactile
To make reading time more interactive, you should let your baby or toddler touch and feel the book as you read to them.
This tactile approach may include letting your child touch the cover and explaining that the words on the front are the title of the book, Fisher says.
"Learning how to use a book is really important with literacy," she says.
Have Conversations
Remember the five W's that you learned in school? Well, asking those questions—who, what, why, where and when—can help you make sure that your child is really listening during reading time.
"Having conversations is what helps your child understand what's going on in the story," Morton says.
If a child is too young to answer some of these questions, try asking things he or she might understand such as instructing him or her to point to a certain color or identify an animal in an illustrated book.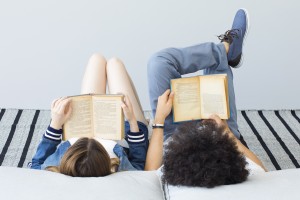 Take a Trip to the Library
Over the summer, reading can fall to the wayside since students are not in school. And this gap in learning can cause children's skills to regress.
"Research has shown that [students] are losing on average about 20% of the reading skills that they've gained in the previous school year," Morton says.
One way to keep kids reading over the summer is to take them to the library. Not only is it a place for them to explore books but libraries like the Orange County Library System (OCLS) also offer summer reading programs. The OCLS program, which program is for all ages and available at all library locations, offers prizes to kids for reading books and coming to library events.
Give Preteens and Teens Autonomy
For preteens and teens, reading is less about parents setting the scene and more about motivating them to read. To do this, Morton says parents should give tweens and teens the freedom to choose what they want to read.
"When [middle school and high school students] have that control, they have a better understanding of what kind of reading materials that they like and that will increase their motivation to read as well," she says.
Parents should also let older children embrace other mediums like e-books and audiobooks.
Cultivate a Love for Reading
Perhaps the most important task for parents when it comes to reading is inspiring a love of books in their children.
"If [parents] can start their kids off with this feeling that books are fun and they make you feel good and there is something you can enjoy," Fisher says, "that sets them up for so much more success when they enter the classroom."
How The Bright Futures Scholarship May Change
Florida Senate Bill 190 will bring changes to the statewide college scholarship program.
•  Students graduating from high school in 2021 will need higher SAT scores to receive Bright Futures.
•  For the top tier scholarship that covers 100 % of college tuition, students must score in the 89th national percentile of the SAT, so a combined reading and math score of at least 1330 out of 1600.
•  For the medallion award, the scholarship that covers 75% of college tuition and applicable fees, students must score in the 75th national percentile for the SAT, a score of about 1200.
•  If a student chooses to take the ACT instead, he or she will need an equivalent score to the SAT scores.
•  Students will be able to apply for the program up to five years after graduation. Previously the limit was two years.
•  The bill removes the 45-credit hour annual limit, which made it so college students did not receive scholarship funds for classes taken beyond 45 credits in the span of one year.
HEALTH AND WELLNESS
Preventing Obesity In Your Family
According to the National Center for Health Statistics, the percentage of children and adolescents affected by obesity has tripled since the 1970s. And data shows that about one in five school-age children has obesity.
Childhood obesity can lead to health problems like diabetes, high blood pressure and high cholesterol. It can also take a toll on a child's mental well-being and self-esteem. Luckily, childhood obesity is preventable and treatable.
Risk Factors
Doctors are not exactly sure why obesity incidences have risen so dramatically in the United States but many health professionals single out two possible contributing factors: More people today seem to live sedentary lifestyles and people have taken to eating more convenience foods, which tend to be low in nutritional value and high in calories.
How a person mentally views or experiences food and exercise is often a big part of it too, according to Dr. Angela Fals, a pediatrician and medical director of the Pediatric Weight and Wellness Program at AdventHealth for Children.
"Most of the time what we see our things we would call behaviors that require behavior modification changes," she says.
Other factors that may come into play are disordered eating like skipping meals and not sleeping enough. According to the American Academy of Sleep Medicine, school-age children should sleep between nine and 12 hours a night, while teenagers should sleep between eight and 10 hours.
Prenatal Care
Dr. Fals says mothers can begin preventing obesity in their child even before the baby is born.
"We know that there are certain key moments in pregnancy that can predispose a child to being in the obesity or overweight category," she says. "So, even from early on, even prenatally, it's very important to have that priority of eating healthy and staying active."
Of course, after your child is born, eating healthy and staying active should still be a part of your routine.
"You really want to maintain health and wellness in a really positive light for them as they're growing up," Dr. Fals says.
Starting Early
Dr. Barry Yarckin, a board-certified pediatrician at West Orlando Pediatrics, sees children who are overweight or obese almost every day at his practice in Ocoee. He says parents can start their child off on the right foot early on.
"[Mothers] should follow the guidelines from the American Academy of Pediatrics to exclusively breast-feed or at least use formula for six months with no, what they call, complementary foods, which are obviously solid foods," Dr. Yarckin says.
For parents using bottles, they should be careful to not overfeed the child.
"[Parents] tend to make sure everything is through from the bottle, instead of throwing away excess nutrition," Dr. Yarckin says. "So sometimes it's overfeeding early on."
Determining if a Child is Overweight or Obese
Pediatricians like Dr. Yarckin and Dr. Fals use something called a body mass index (BMI) to determine whether children, between the ages of 2 and 19, are overweight or obese. BMI charts for children compare a child's height to his or her weight while also taking into account sex and age.
"This gives us an idea in pediatrics of what is considered normal, what is considered overweight and what is considered obese," Dr. Yarckin says.
Children who are overweight fall into a certain percentile on the BMI that says they are holding on to more weight than most other children of the same age, sex and height. Meanwhile, obese children are even further from their ideal average weight.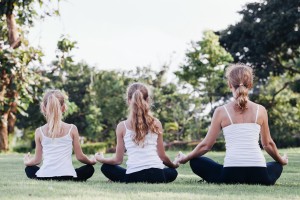 Modeling the Behavior You Want
Parents should be careful to never criticize their child's eating habits, which can lead to disordered eating.
Dr. Fals says parents should instead model the behavior they want from their child.
"There are many parents that do not eat vegetables but yet they want their child to," she says. "And so it's important not to have the expectation of, 'I want you to do this but I'm not going to do it or I can't do it.'"
Not Using Food as Reward
How a child views food can have a big impact on their eating habits. This is why Dr. Yarckin says parents shouldn't use food as a reward.
"If you do, in some instances food will become more of an addiction," he says. "Where food is medicine for comforting them and at least in their minds makes them feel better.
Whole Person Treatment
Treating obesity is complicated because it's a condition influenced by a person's mental health, environment, diet, physicality and more.
Dr. Fals says this is why families should seek out the help of a multidisciplinary team that can address each of these facets. This could include your primary care physician, a dietician, a psychologist, an endocrinologist and more.
"And sometimes it can take many years for all of these facets to really change towards a positive direction," she says. "But with persistence and perseverance and consistency, a supportive family can really make a big difference in their lives."
Dental Health For Little Teeth
One in five children between the ages of 5 and 11 has at least one untreated decayed tooth, according to the National Center for Health Statistics. Cavities can be painful and lead to other health issues but, luckily, they are preventable.
Below are some tips for caring for your child's teeth:
When should teeth brushing begin?
When your child's teeth first come in, brushing should become a part of your routine. Their teeth should be brushed twice a day with a soft, small-bristled toothbrush and plain water.
When should children first go to the dentist?
Children should visit the dentist by their first birthday. The first dental visit will allow the dentist to complete a risk assessment for the chance of cavities and prepare a treatment plan for the child.
How much toothpaste is needed?
Children who are between the ages of 3 and 6 should use a pea-size amount with adult supervision. For children under 2 years old, you should consult with your doctor or dentist about the use of fluoride toothpaste.
– Information obtained from Centers for Disease Control and Prevention
SPECIAL NEEDS
Finding Resources For Children With Learning Disabilities
According to the National Center for Education Statistics, 2.3 million students are diagnosed with specific learning disabilities—disorders that affect the basic psychological processes involved in understanding—and receive services under the Individuals with Disabilities Education Act.
These learning disabilities include dyslexia (trouble reading), dysgraphia (difficulties with writing) and dyscalculia (struggles with math), among others.
If your child has been diagnosed with a learning disorder, there are several steps you can take to make sure they are set up to succeed in their academics and for life.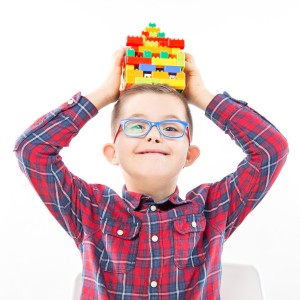 Understanding your Child's Disorder
Krista M. Marchman, a licensed school psychologist for Educational Consulting Associates Inc., has worked with many students who have learning disabilities and their parents. She says parents need to have a precise understanding of the underlying cause for their child's learning disorder.
This means not just knowing that the child has a reading disability but knowing whether this disability is caused by, for example, a breakdown in chronological awareness or visual-spatial processing. Without this information, a parent cannot know what exact intervention is needed and may do the wrong one, which is something Marchman says she sees a lot.
Advocating for Your Child
Once a child who is attending public school receives a learning disorder diagnosis, parents should request an Individualized Education Plan (IEP), which is a plan created by you and the school for what interventions and services your child will receive.
Michael Trageser, director of Center Academy Waterford Lakes, a private school that specializes in teaching students with learning disabilities, says the IEP process is critical because "that's really where you advocate with the public school."
One way to make sure you get the best possible IEP for your child is to find an advocate, someone who is knowledgeable about the process and will go with you to meetings to champion for what your child needs.
Trageser says many parents find IEP advocates by searching online. But reaching out to local organizations that handle students with disabilities can be a good strategy too.
Augmented Help
Even when students have an IEP at their public school, Marchman says she always suggests her clients also seek out augmented services such as a researched-backed learning programs or a tutor that specializes in your child's learning disorder.
"If a child gets a service in public school, there's a 99 percent chance that they're also going to need services beyond what the public school can offer," she says.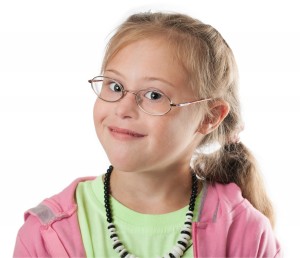 Scholarship
Sometimes your zoned public school may not be the best place for your child who has a learning disability. Luckily, there are options.
"There are some fantastic scholarships for students with disabilities that the parents can take advantage of to find a nontraditional setting if they feel that the public school setting is not able to benefit their child," Trageser says.
The McKay Scholarship for Students with Disabilities is one such program. Administered by the Florida Department of Education, the program allows students with disabilities the opportunity to attend an eligible public or private school of their choice.
Develop Resiliency
According to Marchman, the number one thing parents need to do for their child who has a learning disability is help him or her develop resiliency—something he or she will need to be successful not just in school but in life.
Nurturing a child's talents is one way to help him or her gain this fortitude.
"It's focusing on their strengths," Marchman says. "But also making sure that they are doing what they need to do to address their weaknesses."
No Time to Waste
Time is a precarious thing for children in school because even one year of learning loss can hold them back. Trageser says this is why parents need to set their child up for success from the very beginning.
"A lot of parents, they kind of go into a situation and just say, 'Well, we can always make a change later on if somethings not working,' he says. "But even really missing out on one year of education is a big deal."
Common Learning Disorders
Auditory Processing Disorder  Trouble recognizing subtle differences between sounds and words
Dyscalculia  Difficulty understanding numbers and learning math facts
Dysgraphia  Difficulty with handwriting and fine motor skills
Dyslexia  Difficulty reading and with language-based processing skills
Co-occuring Disorders
Disorders that are not learning disabilities but often co-occur.
ADHD  Difficulty paying attention, controlling behavior and with hyperactivity
Dyspraxia  Difficulty with muscle control, causing problems with movement and coordination
Executive Functioning  Difficulty with planning, organization, attention to details
Deficit in Memory  Difficulty with remembering information
– Source: Learning Disabilities Association of America
This article originally appeared in Orlando Family Magazine's July 2019 issue.