Down to Earth
Actress Kirsten Dunst, set to star in a new series set in Central Florida, tells us how she avoids getting caught up in the bright lights of Hollywood.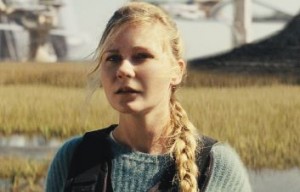 Kirsten Dunst has a dual identity, not that she has anything to hide.Although she's often seen in a gorgeous gown sashaying down the red carpet to spread the word of her latest indie or blockbuster film, Dunst is just as comfortable "playing the role" of girl next door, who in kinder weather dons a T-shirt and shorts for walks on the soft, sandy beaches of her hometown, Point Pleasant, N.J.
"I often feel like I have two different lives," confesses the blond-haired, blue-eyed Dunst. "I don't think of myself as the girl on the magazine covers; I'm just a girl that does average things with my friends in my free time."
Now 35, Dunst was born in the spring of 1982 to Klaus, a German-born executive in the medical- services business, and Inez, the owner of an art gallery who later became her business manager.
She made her feature film debut in a segment of Woody Allen's 1989 film New York Stories. Shortly thereafter she, along with her mom and brother, moved to Los Angeles, where her film career took off. Disney fans may remember her role as Anna Petterson from the made-for-TV Tower of Terror film which was largely filmed at what is now Disney's Hollywood Studios.
Despite her award-winning film and TV successes, Dunst's demeanor remains the same as ever.
When she was a teenager, in a leading role, in the 1999 Holocaust TV movie, The Devil's Arithmetic (produced by Dustin Hoffman), her mom answered the phone first, and then introduced her daughter, Kirsten, who was polite and articulate.
Turning the clock ahead, Dunst remains level-headed and well-mannered, while taking on increasingly challenging roles, both on and off camera. Sometimes, with the intrusive lenses of the paparazzi, the spotlight does not feel as glamorous as a would-be star might have imagined, but Dunst doesn't let the pressure get to her.
"After all, I'm an actress; I'm not running a country," she says. "There are always people who will have opinions about me, good or bad, but I can't let [that] affect the way I live my life."
Her next acting venture will put her square in the heart of our area as she is said to be starring in a new AMC show, On Being a God in Central Florida. Produced by George Clooney, the show centers around Krystal Gill (Dunst), a widowed Orlando theme park employee who falls victim to a pyramid scheme only to exact revenge on the multi-level marketing company that conned her out of her savings.
Dunst's career began at the tender age of 3, when she did the first of more than 100 commercials. She has since gone on to appear in dozens of memorable movies, in many genres, including romantic comedies, action films and intense dramas—even a musical or two.
In 1994, she made a breakthrough performance in Interview with the Vampire, alongside leading men Brad Pitt and Tom Cruise.
She made her mark working with her favorite director, Oscar winner Sofia Coppola, whose 1999 indie film, The Virgin Suicides, was a major career turning point. Dunst is also known for portraying Mary Jane Watson, Peter Parker's girlfriend, in a trilogy of Spider-Man films.
Previously, she proved her status as a diverse leading actress from comedy hits such as Bring It On, to more poignant roles, including those in Marie Antoinette, Melancholia and Eternal Sunshine of the Spotless Mind.
She also had a leading role in the TV hit Fargo, which she proudly called "one of the best roles of my career. It's a little bittersweet for me that it's over."
Many film and television performers who start out in show business at a young age tend to decline rapidly as they get older—but not this down-to-earth actress, who says that she keeps everything in perspective: "My happiness isn't measured by my success; it's about love, family and when I'm not working, sitting on the beach, chilling out with friends."
While Dunst says she enjoys curling up on the sofa with a cup of hot tea while watching her favorite romantic comedy, Annie Hall, she no longer enjoys performing in that genre. "It's funny; I don't love doing them, but I do enjoy watching them," she says.
Comedy, however, especially the girl-buddy variety, is definitely appealing to her. She says she "loved the atmosphere on the set" of 2012's Bachelorette, a film in which she co-starred with Lizzy Caplan (Masters of Sex), Isla Fisher (Wedding Crashers) and Rebel Wilson (Pitch Perfect).
"Overall," she says, "I don't think there are enough good female comedies, and I love working with women, which you don't get to do very often. I enjoyed the dynamic of not having to play the love interest. I enjoyed being able to change it up."
In addition to the upcoming AMC show, Dunst recently starred in a remake of the 1971 Clint Eastwood drama, The Beguiled, helmed by Coppola. The film, which is set in the Civil War era, stars Elle Fanning as a student at a girls' boarding school, as well as Nicole Kidman, who plays the school's head mistress, and Dunst, who portrays one of the instructors.
As she continues to "stretch" herself by embracing new and challenging roles, Dunst says she would love to explore the thriller or horror genre with a film that does not have an obvious story line, such as Rosemary's Baby or Don't Look Now—two other movies she admires.
Dunst also sees directing in her future. She has already directed two short films, and is looking for just the right project to jell. "I believe it will happen this year or next year. It is too early to give any specifics, but I am so terrified and so excited at the same time, which tells me I have to move forward with it."
While on location in Athens, Greece, she found a few unusual ways to chill out.
"When I'm doing something very emotional I like to take time for myself with my headphones on, listening to all types of music," she says. "Another luxury was taking a cab to the beach at the end of the day—this was one movie where it felt like I could be on vacation."
She also showed her tender heart for animals while filming in Greece. "Between scenes and setups I was feeding stray cats," Dunst recalls. "There are so many stray cats in Greece, and they are everywhere. So the producer, Robyn Slovo, and I would get all the craft-services food we could carry and go out and feed the cats. I fed a lot of cats."
When she is not working, Dunst says she has a few guilty pleasures. She enjoys several TV series, including The Bachelor—"so funny and ridiculous that it's brilliant," as she describes it—and the home-improvement cable channel HGTV, because she thoroughly enjoys using her creative side for home decorating.
When it comes to human frailties, Dunst recognizes her own. So what is her biggest weakness? "Taking care of others first and putting myself second; I am definitely working on that one."
She also has advice for those who want to pursue entertainment or any other endeavor: "Trust yourself. You have gut instincts that tell you if something is right for you, so don't ignore them."
This article originally appeared in Orlando Family Magazine's October 2017 issue.