Orlando Family Magazine: Year in Review 2019
A look back at our best interviews from 2019, along with a recap of all our top lists, from physicians, attorneys and dentists to Best of the Best and much more.
THEY SAID IT!
Memorable quotes from our best interviews in 2019.
"As an actress you're always expected to look perfect, wear the latest design, and always look your best. Sometimes you want to wear a T-shirt and jeans when you go to the grocery store, or to a café and read a book or magazine." — Emily Blunt
"A lot of times for me there's a subtlety when you hear someone tell a story. I was at a dinner party once and this woman told a story, it was very interesting but it went nowhere. I told her it was very interesting but asked her if I could tell her how to tell it. You need a great intro to draw everyone in. And then it needs an arc and in my opinion, it has to have one flip of the switch that you didn't see coming. And more importantly, every story needs an ending. " —Bert Kreischer
"[The Little Mermaid] changed my career, changed my trajectory and the direction in my life and I probably reflect on it daily. Ariel is a big part of my family's life." — Jodi Benson
"The squirrels in [New York City] are so used to people that they're afraid of nothing and they are very aggressive, so if anything, I have grown a bit more cautious of squirrels." — Ellie Kemper
"When I do Curb, I go to the set, shoot my scenes and leave. I'm a real fan of the show, and I was before I joined the show, so I don't like to know what's happening. We end up doing a lot of different takes, so I don't ever know what Larry's going to use. It's always a surprise to see what comes across, how the puzzle comes together. I don't even know who's on the show; at the wrap party, I had no idea of the level of special guests for the season. I saw Damon Wayans Jr., and I had no idea he was going to be on— and he's a friend of mine!" — JB Smoove
"I've played some not-so-nice people but I would rather play characters who face up to challenges and say something more positive about the human condition. I find it interesting to learn how people find something within themselves and rise to the occasion." — Tom Hanks
"There's nothing like that face-to-face connection and relationship with the audience, it's amazing. It's funny when I hear certain performers say they don't like meet and greets. I love those VIP experiences before the show, getting to take photos and hugging and connecting with people. They are some of my favorite moments honestly. They give me such energy to go out and perform for them." — Derek Hough
"Actually, [both my daughters] hate when I sing, and when I come home to share tidbits from [the set of] Frozen that no one else will ever hear, they are not really interested."
— Kristen Bell
"I don't think 'Smooth' is the best song I've ever written or the best song he's ever done, but it was the right song and the right time. Obviously it was a big help for me and a big help for Carlos to help him connect with a new audience. [The song] is very special for those reasons." — Rob Thomas
"As an actor, there's no retirement plan, you hope you can continue working. After being on such well-written shows like Everybody Loves Raymond and The Middle, I thought it was going to be difficult to find something that was fresh and was well written."
— Patricia Heaton
"I did a sketch with [Donald] Trump years ago and he liked it. He was totally different off camera than he was on. He was like a used car salesman from the '70s on TV, and off camera he was self-deprecating. That was the weirdest thing to me. It was like was he putting on a mask and becoming a character." — Frank Caliendo
"I always envisioned myself raising a family here, even after moving out to LA for eight years. Once me and my wife got married and had our first child, I wanted to come back to Central Florida. There's such a great community there, unlike other places I've been where you don't even know your next-door neighbor. In Central Florida, they look out for each other, they bond." — Howie Dorough
"No.1 is to accept your weaknesses and fears, we all have different fears. I didn't raise my hand in school, I was afraid if I said something wrong, people would laugh at me. In tournaments, I missed shots on purpose because I didn't want to be on the podium and have to give a speech. My parents noticed that I was always missing shots at the end. … I sucked it up and it wasn't as bad as I thought it would be. I realized that I am extremely competitive and that outweighed my fears." — Annika Sorenstam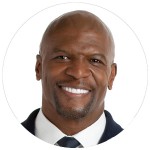 "I already know I'm living a dream, so the appreciation and gratitude are there, and from that, the energy comes. … Nothing wears you out more than when you become ungrateful and you don't want to be where you are. You have no energy, and you start to feel kind of low. So I'm just going to keep doing what I love, and it feels so amazing that I could literally go on forever." — Terry Crews
"My mother and grandmother have been great role models for me. My mom was the one who taught me that if you worked hard in life then you can achieve your dreams. My mom and dad both worked different jobs so we could have a better life and I really appreciated how they accepted their responsibilities and never complained. You learn that if you want to be successful at anything you're going to have to work for it. No one is going to give it to you."
— Jennifer Lopez
"I've always said George Clooney is someone I admire. He's an incredibly generous and beautiful man. He's also one of the best directors I've worked with. And the more I get to know him, and the older he gets, the more I respect and appreciate what a great and good man he is. It's almost frustrating to be his friend, because you know that you can never repay his generosity. I've never found one thing I didn't like about the man in all the time I've known him." — Matt Damon
"I've never really been the type of person to sit down and think about making plans. I have always been someone who is more comfortable operating from a spontaneous kind of place. At times, that does work in my favor, but other times I can fall flat on my face due to that." — Nicole Kidman
BEST OF THE BEST
We like to take inventory of some of Orlando's BESTS. From the best food to the best shops to the best places for pampering yourself to the best activities for family fun.
Click here
SUPER WOMEN
Selfless. Giving. Caring. These are just a few of the many words that could be used to describe this inspiring group of wonderful ladies who are doing big things to help make a difference in our communities.
Click here
MEN OF THE YEAR
These 13 individuals go above and beyond to make their communities a better place to live.
Click here
TOP PHYSICIANS
254 of Orlando's leading medical minds.
Click here
TOP DENTISTS
Central Florida's premier dental health professionals.
Click here
AWESOME ATTORNEYS
Greater Orlando's leading lawyers in 23 specialties chosen by our readers.
Click here
ULTIMATE FOODIE GUIDE
Food has a way of bringing people together and we thought what better way to connect with our readers than by putting together our first-ever food lover's guide.
Click here
COVETED COMMUNITIES: TOP TOWNS
A look at Central Florida's best towns and neighborhoods.
Click here
BEST OF THE BRUNCH
We traveled around the area to uncover the dishes you should be ordering the next time you sleep in a little late.
Click here
This article originally appeared in Orlando Family Magazine's January 2020 issue.