Nurturing Excellence in Education and Character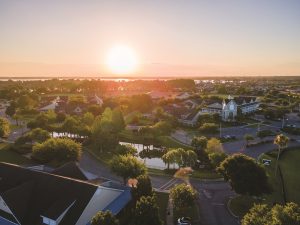 Windermere Preparatory School has earned its reputation for preparing students to succeed both personally and professionally.
Nestled in the picturesque town of Windermere, Windermere Preparatory School stands as a beacon of academic excellence, character development and holistic growth. Since its founding, this renowned institution has upheld a commitment to providing students with a comprehensive education that prepares them for success in both their academic pursuits and personal lives. From cutting-edge facilities to a diverse curriculum and supportive community, Windermere Preparatory School continues to shape the next generation of leaders and innovators.
Windermere Prep was established in 2000 and now operates with the support of its parent company Nord Anglia Education, an internationally recognized education group with a history of creating outstanding learning environments. Since its inception, the school has aimed to provide students with an unparalleled educational experience fostering intellectual curiosity, creativity, and character growth. It provides a vibrant and nurturing learning environment for students from pre-kindergarten through grade 12, with a boarding program starting in 7th grade. Embracing innovation, diversity and a forward-thinking approach, the school strives to shape the leaders of tomorrow. 
The school has grown significantly over the years, expanding its programs and facilities to accommodate its diverse and vibrant community. Windermere Prep is the only private International Baccalaureate (IB) World School in Central Florida and boasts a diverse international community dedicated to preparing the next generation of global leaders. In addition to offering exceptional academics, athletics and fine arts, Windermere Prep students also benefit from collaborations with world-renowned organizations such as the Massachusetts Institute of Technology (MIT), The Juilliard School and UNICEF.  
The IB program offers students a rigorous curriculum setting them up for success in higher education. With course offerings ranging from standard, honors, Advanced Placement (AP) and IB levels, students at Windermere Prep work with expert college counselors to craft a four-year academic plan designed to help them gain entrance into their first-choice college or university of best fit. 
The school's mission is to inspire and empower students to reach their full potential academically, socially and emotionally. "Our school is dedicated to fostering a love of learning, critical thinking, and a strong sense of integrity and responsibility," notes Assistant Head of School Alex Birchenall. "We want to provide amazing opportunities to our students and families, in a very safe and nurturing environment. Exploring the world and celebrating the things that make us special and unique is just as important as the curriculum."  
Windermere Prep is a school with a global vision that provides a stimulating and diverse learning experience to every child. "We value the IB curriculum, as it emphasizes critical thinking through the study of a wide range of subjects in the traditional academic disciplines, while also encouraging an international perspective. I speak not only as a teacher, but also as a parent about how wonderful the opportunities this program offers our children as learners," notes Fine Arts Director Rosemarie Redman, who also has two children enrolled in the school. In addition to completing college-level courses and examinations, IB Diploma Program students are also required to engage in community service, individual research and an inquiry into the nature of knowledge.
Beyond the classroom, Windermere Preparatory School offers an array of extracurricular activities to enrich students' experiences and encourage well-rounded development. From sports teams to academic clubs, arts programs and community service initiatives, students have ample opportunities to pursue their interests, make new friends and build valuable leadership skills. The school's commitment to fostering a tight-knit community is evident through numerous events and activities that encourage family involvement and camaraderie among students, parents and faculty.
Windermere Prep's fine arts program is a dazzling showcase of plays, operas, concerts, dance performances and more, allowing all students to participate as early as lower school and continuing through high school. "We're successful at not only implementing the global mindset in academics but also covering the fine arts and athletic sides of the spectrum, creating that whole holistic student. It's setting up the whole entire student for success in the future," Redman explains. 
The school's legacy of excellence in education and character development continues to shape the lives of its students and impact the community. From modern facilities to a comprehensive curriculum and dedicated faculty, Windermere Prep stands as a leading educational institution in Florida, resulting in being at full capacity of 1,600 students and continuing to have a robust wait pool, while remaining steadfast in its commitment to nurturing the next generation of leaders, thinkers and compassionate global citizens. When graduating, students are equipped with the knowledge and the desire to seek the truth in fortitude to become life-long learners who are prepared for college, socially responsible, and able to succeed in an ever-evolving world.
Windermere Preparatory School
6189 Winter Garden Vineland Road, Windermere
(407) 905-7737
NordAngliaEducation.com/WPS-Florida