Making Spirits Bright
These Central Florida nonprofits provide support and services year-round for people – and animals – who need them most.
With the year coming to a close, many of us will be celebrating 2019's successes, and these nonprofits are no different. Each one has touched the lives of others in Central Florida—whether they are a fledgling foundation or a nonprofit with decades of experience, their actions have led to positive change for special needs families, the homeless, children and pets. Orlando Family Magazine is recognizing 15 organizations whose support and services have a direct impact in the local community all year long.
Nathaniel's Hope
Founders Tim and Marie Kuck learned firsthand the demands of raising a special needs child with their son Nathaniel, who was born prematurely with multiple birth anomalies. He sadly passed away at just 4-and-a-half years old, but his death was the opportunity to bring comfort to other special needs families. Nathaniel's Hope offers programs for kids with physical, cognitive and medical disabilities, including Buddy Breaks— giving parents a day off—holiday events and family outings, and uses its platform to educate surrounding communities about the needs of these families. Orlando, (407) 857-8224, NathanielsHope.org
Clean the World
For many children in underdeveloped countries, something as simple as a bar of soap can be all the difference in preventing diseases such as pneumonia and diarrhea—which can kill approximately 1.8 million people annually. Through its foundation, not only does Clean the World bring handwashing supplies and training in places like Tanzania and Kenya, but also to low-income schools in Orlando and elsewhere in the U.S. It also works on giving a second life to discarded soap and plastic bottles from hotels across the country, helping to reduce landfill waste and further its global hygiene efforts. Orlando, (407) 574-8353, CleanTheWorld.org
Just 1 Book
It's hard to believe some children do not have access to books—a fact that spurred then-10-year-old Sarah Dewitz into action in 2010. When she learned about hardships for families in the town of Bithlo, including children who not only didn't have transportation to the library or a bookstore, but who may not even be able to afford books, she had a small request of her fellow students—to bring in just one new or gently used book to donate to those kids. The response was overwhelming and the books found new homes in churches, preschools, daycares and recreational centers. The program was also adopted by the Kiwanis Breakfast Club, which runs a "Reading is Fundamental" program for ages 1 to 5. Just 1 Book annually participates in the Bithlo Community Center back to school fair, putting free books into the hands of children. Orlando, Just1Book.org
Kids Beating Cancer
In 1992, a 9-year-old named John Voight passed away after fighting acute myeloblastic leukemia. Although a resident of Central Florida, his treatment options close to home were scarce, so he and his mom ended up in Seattle. Although John could not beat his disease, his mother Margaret formed a foundation in his memory—now known as Kids Beating Cancer—that aims to provide transplant treatment and care to families in Central Florida. After years of hard work, the Kids Beating Cancer Pediatric Transplant Center opened at AdventHealth for Children in Orlando in 2012, where children can receive treatment in fun themed rooms, and families have access to a kitchen stocked with meals and snacks. The organization also runs Bunky's Pals, a program that gifts tickets to sporting events and theme parks and other events, and hosts an annual Hats & Heroes Ball recognizing those making a difference in pediatric medicine and in the community. Winter Park, (407) 894-2888, KidsBeatingCancer.com
Zebra Coalition
For lesbian, gay, bisexual, transgender and all who identify as LGBTQ+ between ages 13 and 24, the Zebra Coalition is a community of support services. This group of youth faces issues such as bullying, family isolation, physical, sexual and drug abuse, and homelessness, and the Zebra Coalition brings together 26 partners that include government agencies, social services, corporations, schools, churches and more. The coalition offers mental health counseling and substance abuse support, as well as housing for those who have been kicked out of their homes and may otherwise be put on the street and at further risk. There are also leadership opportunities offered within the organization and an outreach program to local schools, helping to strengthen their LGBTQ+ clubs. Funding for much of the programming comes from all over the Central Florida community, including the Orlando Magic Youth Foundation, Disney, Universal and the Department of Children and Families. Orlando, (407) 228-1446, ZebraYouth.org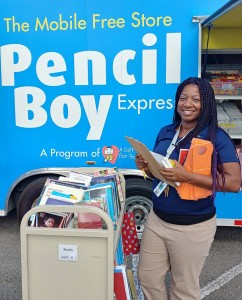 A Gift For Teaching
Approximately 70% of students in Central Florida can't afford lunch, and more than 9,700 children are homeless. Without adequate food or housing, these children cannot be expected to afford the school supplies necessary to be productive students. In response, many teachers spend their own money to have pencils, crayons, glue, notebooks and other supplies for students—upwards of $520 a year per teacher. To ease the burden, A Gift For Teaching provides these resources free of cost to teachers and public schools in Orange and Osceola counties at both its Free Teacher Supply Stores, Pencil Boy Express–The Mobile Free Store, and Pencil Boy Online. The organization hosts events throughout the year, including the Ready to Read Book Drive and The Great Big Backpack Build event. Since 1998, AGFT has distributed nearly $130 million in supplies. Orlando, (407) 318-3123, AGiftForTeaching.org
Chance 2 Dance
In 2016, Chance 2 Dance had just four children with autism in its program, but today it services over 600 individuals of all ages with varying disabilities and needs, providing inclusive dance classes throughout Central Florida. Whether the professional dancers—who are all certified in inclusion and special needs—are instructing students in the sensory-friendly studio or off-site at local schools or organizations, the goal is to provide a creative and therapeutic experience that is fun and fosters the mind-body connection, while giving dancers the foundation of classical dance techniques. At the end of each year, Chance 2 Dance hosts a free showcase where performers take center stage to show their progress. Casselberry, (407) 588-9589, Chance2DanceFL.org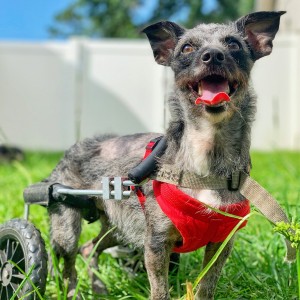 LoveyLoaves Special Needs Rescue & Sanctuary
For dogs that have been dealt a tough hand in life, LoveyLoaves is a safe haven. Founded by Cheri Wells, LoveyLoaves saves and rehabilitates dogs that are blind/deaf, amputees, suffering from disease, disorders or injuries, and those on carts. Under Wells' care, these dogs receive physical therapy and rehabilitation services—not to mention love and attention—in hopes of placing them in forever homes. The organization currently operates out of Wells' residence and through a network of foster homes, but its ultimate goal is to build a sanctuary, giving these precious animals a home-like environment and access to special medical services under one roof as they prepare for adoption or to stay and comfortably live out their lives. Orlando, (407) 494-2707, LoveyLoaves.org
IMPOWER
Founded in 1994 as Intervention Services, IMPOWER serves more than 9,000 individuals and families with a continuum of services centered on the mental and behavioral health and child well-being. Programs range from substance abuse treatment and counseling, to transitional housing for former foster youth and adoption services, among others. IMPOWER offers a facility called The Grove, a voluntary residential program for ages 13 to 17 who are suffering from drug or alcohol abuse, which provides group and family therapy, a virtual school and life skills courses. Additionally, The Village is a safe, affordable community for young adults who are homeless or have aged out of foster care, providing dorm living, access to legal and community agencies, mentors and job training. The organization hosts several events throughout the year, including a quarterly family volunteer day, school supply drive and a Holiday Heroes Gift Drive—now in its seventh year—providing toys and gifts for thousands of disadvantaged and at-risk children served by the program. Longwood, (407) 215-0095, ImpowerFL.org
We Are RARE
RARE, which stands for Rare, Awareness, Research and Education, works to advocate for rare brain disorders such as schizencephaly, plagiocephaly, microcephaly/hydrocephalus/macrocephalic disorders, lissencephaly and traumatic brain injury prior to birth, as well as cerebral palsy, feeding dysfunction and seizure control. The organization is unique in that it is composed of volunteer board members that include parents as well as medical and legal advisors. In working directly with hospitals, the organization hopes to train staff on these conditions, as well as become the first point of contact for parents whose child has received a diagnosis. In 2020, We Are RARE is hosting the Purple and Green Inclusion Awareness Run, with a goal to be the largest inclusion-based run in the state. Orlando, WeAreRare.org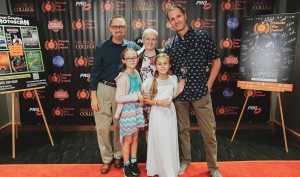 Orlando Film Festival
The award-winning filmmakers of tomorrow get their start at festivals just like this one in Downtown Orlando. Held annually in October at the Cobb Plaza Cinema Café, the Orlando Film Festival immerses audiences in quality, independent cinema and the people who brought the films to life, hosting panel discussions and Q&As, and parties where attendees can rub elbows with industry insiders—much of which is run by volunteers. Just this year, the Orlando Film Festival showcased 32 narrative feature films, 20 documentaries and 240 shorts. Orlando, (407) 217-1390, OrlandoFilmFest.com
Second Harvest Food Bank of Central Florida
In Central Florida, one in seven people is food insecure, meaning they lack access to enough food for an active, healthy life. According to statistics from Second Harvest Food Bank of Central Florida, children are even more vulnerable, with one in five at risk of going to bed hungry. Second Harvest is a major conduit for getting food and meals to 550 partners in six Central Florida counties. In 2018, the organization distributed 63 million meals to food pantries, women's shelters, senior centers, day cares and soup kitchens. In addition to feeding people, Second Harvest also strives to empower them, and does so through several job and life skill programs, including a 16-week Culinary Training Program and a Distribution Center Training Program. Second Harvest also assists individuals and families with applications for SNAP—amounting to more than $9 million in benefits in the last fiscal year. Orlando, (407) 295-1066, FeedHopeNow.org
Matthew's Hope Ministries
In 2010, a freeze warning inspired Pastor Scott Billue and friends to ask nearby churches to open their doors to the homeless, if only temporarily. This brought to light a group of people who needed help, even in the warmer temperatures, and Matthew's Hope Ministries was created. Every week the organization hosts Tuesday Ministries at its Outreach Center in Winter Garden. Guests are invited to have meals, take a warm shower, shave, have a haircut, wash a load of laundry and shop in the food pantry. Other services include an Effort Points program and Moving Forward program that encourages and rewards those who are willing and able to work, helping them toward an independent life. Matthew's Hope's newest initiative is the Firm Foundation Preschool, providing young children with an affordable Montessori education. Winter Garden, (407) 905-9500, MatthewsHopeMinistries.org
Central Florida Women's League
This group of 125-plus women was founded over 30 years ago. The mission of the all-volunteer organization is to use power in numbers to collectively fundraise for a variety of charities in Central Florida. New charities are selected each year and the CFWL not only helps to raise money, but interacts with each charity behind the scenes. Whether through their own personal generosity or with the help of event sponsors and outside donations, the CFWL has raised over $2 million for local nonprofits, including Canine Companion, Cornerstone Hospice and Family Promise of Greater Orlando, and scholarships for up to 10 female students annually to help grow the future generation of philanthropists. Windermere, CFWL.org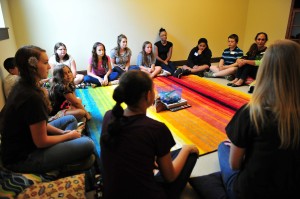 New Hope For Kids
This organization offers two programs for children ages 3 to 19, both aimed at providing assistance during some of life's toughest obstacles. At its Center for Grieving Children, those who have experienced the loss of a loved one can learn how to cope with their emotions in a comfortable group setting with peers and professional counselors. New Hope for Kids also operates Wishes for Kids, which grants wishes to children with a life-threatening diagnosis. A majority of cases are focused locally in Central Florida and wishes include trips, experiences, shopping sprees and even makeovers. Maitland, (407) 331-3059, NewHopeForKids.org

This article originally appeared in Orlando Family Magazine's December 2019 issue.