Wise Beyond Their Years
There is no question that our children have faced unprecedented challenges in recent years, from remote school to canceled activities. The fact that they have still managed to thrive is nothing short of remarkable, and many are even finding ways to go above and beyond by volunteering at local charities or starting their own initiatives to help others. Orlando Family Magazine is proud to shed a light on a few of those impactful youngsters with our annual list of Super Kids.
Cassie and Sabrina Glow
Professional voiceover artists and sisters Cassie (16) and Sabrina (14) first learned about Second Harvest Food Bank after the onset of the pandemic. "The longer the pandemic drew on, the more we became aware of how COVID was impacting others not as fortunate, especially right in our community. We came across a news story about the work Second Harvest Food Bank was doing in the community and it prompted us to get involved," they say. 
They decided then to find a way to use their voices—literally—to give back. The sisters record voiceovers for Second Harvest's marketing team to use in commercials, digital ads, radio ads and social media promos on a pro-bono basis. They created a virtual food drive called "Sister vs. Sister" to see who could raise more, and this friendly "competition" ended up boosting their donations even more.
Because the "Glow Girls" brand is well known throughout the voiceover industry, it allows them to reach a wide community and spread awareness when they are hosting a virtual food drive. "Anyone can make a difference, no matter how big or small. Every act of kindness matters," Cassie says. 
Between direct donations, pro-bono voiceover work, and hosting virtual food drives, they have generated support for over 35,000 meals. "Partnering with an organization like Second Harvest inspires me to give back even more because I know they can amplify my support to create an even greater impact in the community than I could do alone," Sabrina says.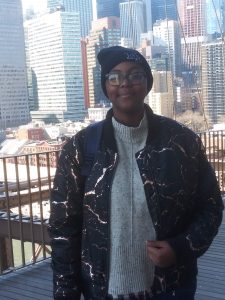 Destini Courtney
Courtney, a dual enrollment junior at Apopka High School, volunteered as a Summer Camp Youth Counselor at The Orange County History Center this past summer. In just two months, she completed over 70 hours of community service. She assisted with programs such as "Fossil Finding," "No Paintbrush Painting" (layering paint on canvas in beautiful patterns), "Rollercoaster Build" and ecosystem drawings. One of her favorite activities was leading museum scavenger hunts.
"Her positivity, kindness and helpfulness made her a great asset to our camp team," Diane Masciale, museum services coordinator, says. 
Courtney's service to the community includes three years of additional volunteering at Dream Lake Elementary and participating in the Martin Luther King Jr. parade and Salvation Army as part of the National Achievers Society. The National Achievers Society is a prestigious organization that recognizes students across the country for their academic and cultural accomplishments. 
Courtney is active with the National Honor Society, BETA Club, Code Orlando 2019 and participates in various academic groups. Her goal is to help people through science by becoming a forensic scientist and working as a crime scene investigator. 
Adam Mendelsohn
Mendelsohn, a student at Edgewater High School, volunteers as a Special Olympics Unified Partner and also gives his time at Camp Shriver, a summer camp designed for young individuals with intellectual disabilities that provides an inclusive environment.
Unified Partners are people without intellectual disabilities who practice and play on teams alongside Special Olympics athletes. The goal of the Unified program is to bring together people with and without disabilities to help dispel misconceptions and prejudices against people with intellectual disabilities.
As a Unified Partner at Camp Shriver, Mendelsohn assisted athletes with social, motor, art and physical skills. "We played basketball, did numerous art projects and even swam. But, honestly most important of all is allowing the athletes to feel like they belong. My main goal was to allow them to feel comfortable and express themselves without judgment," he says.
Camp members describe Mendelsohn as a friendly young man who always has a smile on his face and makes everyone around him feel included. During his time at Camp Shriver, he was a big help to the coaching staff by taking on various tasks, and he was instrumental in building camaraderie among the athletes.
Chelsea "Shealanin" Mendes 
A senior at Dr. Phillips High School, Mendes recently started her own podcast, Mental Breakdown, focusing on a variety of topics ranging from voter suppression to mental health, sustainability and more. 
"It's a safe platform in which we dissect mental breakdown and mental health, and how the world interprets it. My podcast is a virtual space providing an outlet for my peers to express what's on their minds and to hear from professionals," she says.
She has featured professors, motivational speakers, journalists and board-certified health professionals from around the world on her show to discuss hot topics for her growing audience. She's been able to grow her audience from just friends and family to her peers at school and the local community. 
In addition to working on her podcast, Mendes is actively involved at her school. She is a student leader for the Center of International Studies program, where she is in charge of event planning and fundraising, including generating funds not only for the program but for field trips that expose the students to the international communities within Central Florida. Other accomplishments she has earned are being a National Honor Society recipient and a 2022-2023 Bank of America student leader.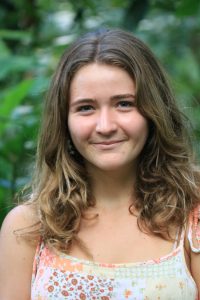 Maya Lis
Lis, a 17-year-old senior from Dr. Phillips High School, started Compost for All, a composting nonprofit organization that focuses on equal access to affordable compost bins and education within the local community. The group was able to produce and sell composters for as little as $20, significantly lower than similar composters found online. For every three that they sell, they give one composter to someone in a low-income community.
Another important aspect of the nonprofit is educating the community. Lis hosts composting sessions in a variety of different settings such as churches, schools, community events and even the Orlando Science Center. She teaches groups from adults to children what composting is and the steps on how to do it yourself. 
"We actually partnered with 21 Orange County Public Schools recently to help launch their composting pilot program, where they're starting composting throughout their schools. We're helping to develop the curriculum for how to teach the students about composting," she says. 
Through her informational sessions, Instagram and website, Lis has been able to educate around 5,000 people and sold about 200 composters since starting. Her goal is to continue to help out the world and the environment. She continues to make a difference by volunteering at an animal shelter and planning community service events at her high school, and received the Girl Scout Gold Award for her work in creating yoga exercise videos for individuals with cerebral palsy.
Aidan Wilson
Wilson was just 11 years old when he first started volunteering for Hearts, Hands and Hope upon the organization's inception. Now 17, he has participated in every food drive, every fundraiser and every bag-packing opportunity: No task is too big or too small. He has seen firsthand how Hearts, Hands, and Hope has helped disadvantaged children in the community and how important it is to get resources to these families so they can become the best versions of themselves. 
During the summer months of 2021, in the midst of the COVID-19 pandemic, Wilson was out in the community distributing food boxes to some of Seminole County's most affected communities every week. For some of these families, this was the only assistance they were receiving during the pandemic. 
"Aidan is not only a spectacular youth, but he is an exceptional youth as Aidan is on the autism spectrum. Aidan's disability has never impeded his ability or desire to help others; perhaps his own struggles have enabled him to develop a level of empathy and compassion to help others," Kelly Holley, a volunteer coordinator, says.
Ayah Shatara 
Shatara, a senior at Olympia High School, first started volunteering at A Gift For Teaching to gain scholarship hours. After completing her required hours, she continued to return because of her enthusiasm for helping others, her belief in their mission, and simply because she enjoys the work.
She has volunteered with A Gift For Teaching in multiple capacities. Typically, she arrives in the afternoon to be a teacher's shopping assistant. In this role, Shatara helps the teachers as they navigate their Free Teacher Supply Store. She has also served as a new teacher tour guide, welcoming new teachers to the store, and a curbside assistant, where she keeps track of the online teacher supply orders.

On other days, Shatara arrives in the morning to work as a prep assistant in the store. In this role, she helps A Gift For Teaching prepare the store for the teachers who have appointments to shop later that day. These tasks include stocking shelves, preparing merchandise by opening extra packaging or removing labels, and vacuuming the floor.
"It has been a privilege to work with Ayah in this capacity. She is without a doubt one of our best volunteers. … This young person has a very bright and successful future ahead of her, and I feel very honored to be a part of her early work experience. Whatever her future holds, she will always have a treasured place on our team," Teege Braune, A Gift For Teaching distribution coordinator, says.