Around the Greens
A look at some of the area's finest golf clubs to see what they have to offer.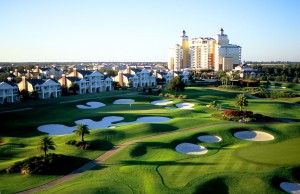 Whether you are a casual golfer who sneaks in a couple of rounds per month, or someone who is passionate about the game and hits the links on a more regular basis, Central Florida is a prime spot to test your skills.
Residents and visitors alike are sure to find plenty of courses worthy of a day under the sun, and Orlando Family Magazine is here to help. We reached out to area clubs to get the lowdown on what's new and notable this year. The following is a closer look at some of the top courses in our area and the exciting developments that may be going on as the season heats up.
PUBLIC
Celebration Golf Club
The final collaboration between renowned golf course designers Robert Trent Jones Sr. and his son, Robert Trent Jones Jr., Celebration opened in 1996. Featuring signature elements from their courses around the world, it fits in beautifully among the natural pine forests and Florida wetlands. With water coming into play on just about every hole, choosing the right club is a necessity to make par. Celebration's Golf Academy is well known for introducing new golfers to the game and includes private lessons, group lessons, clinics and more.
What's New: The nFlight Fitting and Teaching Studio is being updated and rebranded as the Florida Elite Fitting Studio at The Celebration Golf Academy, with a grand opening event scheduled for May 19. The new space will now offer custom club fittings for a number of the top brands, in addition to Ping, as well as on-site club repairs and customizations. The Celebration Golf Academy will also continue to offer instruction to all ages and skill levels, with a focus on junior golf.
Falcon's Fire Golf Club
Built in 1993 with a championship design from architect Rees Jones, Falcon's Fire is considered one of the finest public courses in the area. Stretching over 7,000 yards from the back tees, the course has a unique layout with numerous bunkers on every hole and becomes especially challenging on the back nine. Every guest is treated to valet parking, club cleaning and golf carts equipped with GPS navigation, and the Falcon's Nest Restaurant contains such items as alligator gumbo and a smoked brisket sandwich.
What's New: Falcon's Fire will be hosting a Family Golf Day on May 26. Children 16 and under can play a free round with a paying adult, and the event will include clinics and demos as well. The club will also be holding a junior clinic from June 18-22, and those interested in attending can call for pricing.
Mayfair Country Club
Those who appreciate golf history will love Mayfair.  Designed in 1922 by Donald Ross, it hosted the PGA Tour's Mayfair Inn Open during the 1950s, with such legends as Ben Hogan, Sam Snead and Arnold Palmer competing in the event. Today, the course has more of an open layout due to back-to-back hurricanes in the early 2000s that uprooted more than 200 trees. That makes it more suitable to newer golfers than some other courses, but it still presents a test to even the most seasoned players.
What's New: The club brought back the Mayfair Inn Open in February, with professionals and amateurs alike battling it out on the historic course. Keith Greene picked up his first professional win and recently qualified for the Canadian PGA Tour. Mayfair has also developed new afternoon leagues that are growing in popularity as a fun way to play a round after work.
MetroWest Golf Club
A Robert Trent Jones Sr. design from 1987, MetroWest is a picturesque course with elevation changes not usually found in Florida. The par-72 course offers a challenging round at an affordable price. It has hosted several notable events throughout the years, including the U.S. Open Qualifier  and Florida State Amateur. Golfers are encouraged to end their visit with a cocktail at Sundance Tavern, a sports bar located on the first floor of the spacious clubhouse.
What's New: Westerly's Grille, overlooking the 18th green, has reopened, added four flat-screen TVs and is available for lunch on weekdays from 11 a.m. to 3 p.m. MetroWest has also introduced a new "one-stop shop" model in which golfers can check in for their tee times at the bar, grab a beer or something to eat before their round and purchase merchandise all at the same location. Finally, Jim Camp took over as general manager this spring after six years of managing golf operations at a club in Jacksonville.
Oaks National Golf Club
Originally opened in 1986, Oaks National  underwent  extensive renovations to the course and clubhouse three years ago and is now considered one of the best values in the area. Drawing its name from the magnificent 100-year-old oaks that line the course, the scenic layout also brings water into play on 15 of the 18 holes. Oaks National  offers several different membership packages, including two for young golfers, as well as the Oaks Loyalty Card, which costs $50 for the year and is good for discounts on everything from practice balls to greens fees.
Orange County National Golf Center and Lodge
Orange County National (OCN) is home to two cham- pionship courses along with a nine-hole short course, so there are ample opportunities for the serious golfer. Among the 18-hole options, Panther Lake takes advantage of the natural beauty surrounding it, and unlike many Florida courses, has no development on or around it. Crooked Cat is more of a links-style setting than its sister course and has significant elevation changes. OCN also boasts "the largest driving range in the nation," a 42-acre facility with 600 spaces and eight chipping greens. It was the site where Tiger Woods' iconic Nike commercial, in which he juggles a golf ball on his wedge before hitting the ball out of mid-air, was filmed in the late 1990s.
What's New: OCN has started  a PGA Junior  League this year, bringing kids together for enjoyable team golf experiences and expert coaching from professionals. Orange 83 Pub and Grill also holds burger night every Friday from 5-9 p.m., with specials like the donut burger.
Orange Lake Golf
A sprawling resort, Orange Lake offers four golf courses, two miniature golf courses, nine restaurants,  water slides and more. The premier attraction, golf wise, is The Legends, which is the only Arnold Palmer signature course in Central Florida open to the public. Opened in 1998, The Legends is like two different courses in one, with links-style golf on the front nine followed by a back nine filled with tree- lined fairways and water hazards. The Reserve is another picturesque, challenging 18-hole layout, while The Legends Walk is a nine-hole course that is lighted for nighttime golf and Cranes Bend is an executive nine-hole course.
What's New: Orange Lake is under new leadership, as Brown Golf took over management last year after Integrity Golf ceased operations. Brown Golf was founded in 2011 and has 19 facilities in six states.
Stonegate Golf Club at Solivita
Solivita is a stunning residential area combining natural beauty with modern amenities, and at the heart of the community sits Stonegate Golf Club. With two 18-hole courses, Stonegate takes pride in its picturesque setting, particularly the 100- year-old oak hammocks that line the property. On the Oaks Course, designed by Ron Garl, golfers can expect to find heron, gators and other wildlife during their round. The Cypress Course is the more challenging option, with water in play on 14 holes and greens that are raised and sloped.
Stoneybrook East Golf Club Known for its excellent greens and strong overall conditions, Stoneybrook East has a fun layout built by Clifton, Ezell and Clifton Design. With various types of challenges throughout the course, the last four holes are especially a difficult test. An annual membership pass for $3,600 provides unlimited golf at Stoney- brook East along with two other courses, North Shore Golf Club and Eastwood Golf Club.
Stoneybrook West Golf Club
Opened in 2000, this course built on a former citrus grove in Winter Garden has an Arthur Hills design. It features rolling fairways and water figures prominently into the layout, touching on 14 holes.
Golfers can also expect some of the fastest greens in Central Florida, with true rolling surfaces that can challenge players of all levels. The Champions Grill offers indoor and outdoor seating and is the perfect way to end the day with a drink or meal.

RESORTS
Arnold Palmer's Bay Hill Club & Lodge
Originally built in 1961, Bay Hill became a favorite course of golf legend Arnold Palmer when he won an exhibition tournament there in 1965. Palmer eventually took over ownership in the 1970s, helped transform the property into the jewel it is today and made Bay Hill his winter home until his passing in 2016. Known as one of the premier golf resorts in the country, Bay Hill features 27 holes of golf, the Arnold Palmer Golf Academy, tennis, three restaurants and much more, and every year the Championship Course hosts some of the biggest names in golf with the PGA Tour's Arnold Palmer Invitational.
What's New: Bay Hill has introduced a "Bucket List" golf package, which includes one night's stay at the resort, a full breakfast and one round of championship golf on the same course the pros play. The cost is $191 per person and is available from May 22 until Jan. 15, 2019. The club is also adding a two-acre, short-game facility and making improvements to the driving range.
Champions Gate Golf Resort
This massive, beautiful  complex near Disney World is a tourist attraction itself, as it boasts luxury accommodations and amenities. But golf takes center stage with two championship courses designed by Greg Norman. The International Course has a coastal links- style layout reminiscent of Norman's native Australia and offers one of the most unique challenges in the area. For a completely different experience, try the National Course, which is designed more in a style typical in Florida resorts. There is great variety, with each hole different from the last and testing a golfer's entire repertoire.
Disney's Lake Buena Vista Golf Course
This Joe Lee-designed course is the tightest of the three 18-hole layouts that Disney offers, as it winds through gorgeous pine forests. With elevated greens on every hole, accurate approach shots are a must, one reason why this course makes for a challenging yet enjoyable round. Lake Buena Vista, which has hosted the PGA Tour, LPGA Tour and USGA events, also has a top-notch driving range.
What's New: As part of its commitment to providing the best golfing conditions possible, Disney will begin renovations on all of the bunkers at Lake Buena Vista this summer. The course will keep nine holes open during the $300,000 project, which involves redoing the drainage and adding fresh sand.
Disney's Magnolia Golf Course
The longest and arguably most difficult of Disney's three 18-hole courses, Magnolia offers a test for all level of players. Lined with majestic magnolia trees that give the course its name, the layout calls for pre- cise shots off the tee and features plenty of bunkers and water hazards. It is frequently praised for the knowledge of the staff and the conditions of the course, particularly after extensive renovations in 2015.
What's New: Magnolia's sister course, Disney's Oak Trail Golf Course, is now offering FootGolf, a combination of golf and soccer. The FootGolf layout is 18 holes over nine holes at this par-36 walking course. The rules are similar to traditional golf, with bunkers and hazards, and players kick a regulation  soccer ball, trying to sink it in a 21-inch-diameter cup in as few shots as possible. FootGolf is popular with families  and tee times can be booked for groups playing in front of or behind those playing traditional golf at Oak Trail.
Disney's Palm Golf Course
Taking advantage of the natural woodlands it is set in, Palm is a scenic course and it can be easy to get lost in its beauty. As for the course itself, the original layout from the 1970s was completely redesigned in 2013 by Arnold Palmer Course Design, resulting in a modernized feel. Golfers can expect water to come into play throughout the course and greens that can be extremely difficult to read, presenting a welcome challenge.
What's New: The eighth hole at Palm will soon have the Mickey Mouse-shaped bunker made famous at its sister course, Magnolia.
Grand Cypress Golf Club
A luxurious resort with lavish villas and plenty of activities for guests of all ages, Grand Cypress offers 45 holes of Jack Nicklaus-designed golf. The North/ South/East courses were all built in the 1980s— North and South were also updated within the last
11 years—and provide three distinct 18-hole combinations. Including beautiful tree-lined holes and water features throughout, these courses call for accuracy more than length. The New Course is a completely different experience with its links- style layout and is Nicklaus' homage to the renowned Old Course at St. Andrews, Scotland.
What's New: The Grand Cypress Academy of Golf recently introduced a Gears fitting system, the only one available in the state. A state-of-the-art, 3D motion-capture system used by PGA professionals and club manufacturers, Gears is used to measure and analyze every nuance of a swing and can help determine if a golfer's shaft and club combination are the right fit. The Academy of Golf will also hold youth golf camps in June, July and August for children between the ages of 7 and 17. The week-long sessions will include lessons on practice holes and full swing instruction.
Mystic Dunes Golf Club
Designed by Champions Tour player and NBC golf analyst Gary Koch, Mystic Dunes is regarded as one of the most unique courses in the area. It offers two very distinct golf experiences: The front nine has the feel of a British links course, with significant elevation changes over the native sand dunes, while the back nine is reminiscent of classic Carolina layouts and features wetlands and oak forests.
What's New: Mystic Dunes is under new management and has been receiving high marks for its improved conditions and courteous staff.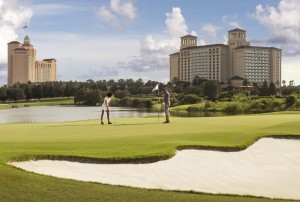 The Ritz-Carlton Golf Club
Orlando, Grande Lakes
For a truly luxurious experience, there are not many better places to stay than The Ritz-Carlton Orlando, with its top- notch guest rooms and amenities. That carries over to a stunning course enhanced by the natural beauty that sur- rounds it. The Greg Norman design includes wide fairways,
70 bunkers and water comes into play on 16 holes. WHAT'S NEW: The club will host a Family Golf Day on May 26 from 11 a.m.-3 p.m. It includes a junior golf clinic for kids 5-17, a barbecue, music, golf games, club demo opportunities and more. It is complimentary to hotel guests and local residents.
Reunion Resort
An upscale community complete with beautiful homes, condos, a hotel and lavish villas, two fine dining restau- rants, tennis courts, a water park and much more, Reunion is regarded as one of the top resorts in Florida. With three different courses designed by golf royalty— Jack Nicklaus, Arnold Palmer and Tom Watson—this is a must-play for serious golfers. The shortest of the courses is the Palmer course, which boasts dramatic elevation changes and greens that rarely present a straight putt. The Watson course has no water features, a rarity in Florida, but demands a strong overall strategy from each player and a solid short game. The Nicklaus course is the longest of the three at 7,219 yards and the most difficult, consisting of elevated tees and greens and daring golfers to take risky shots throughout the course. Reunion is part of the Salamander resorts group that also manages Innisbrook in Palm Harbor which recently spent five months renovating all the greens on its North Course.
What's New: The new clubhouse located on the 18th hole of the Nicklaus course is slated to be completed by the fall. In addition, Bryan Greco has been named the assistant golf professional, Eric Sargent is now the first assistant golf profes- sional and Kevin Baker has been promoted to general manager.
Shingle Creek Golf Club
Originally opened in 2003, Shingle Creek underwent extensive renovations and debuted a completely new design from architect Thad Layton of the Arnold Palmer Design Company in December 2016. The aim was to distinguish Shingle Creek from other resort-type courses and incorporate features reminiscent of some of the best layouts in the world.
What's New: Now for a special rate of $99, residents of Orange, Seminole, Lake, Polk, Osceola, Brevard and Volusia counties are eligible for the Driver's Club. The benefits include a free round upon joining, discounted greens fees throughout the year and 10 percent off food and beverage at the Partake Café and Clubhouse Grille. Shingle Creek is also offering a Golf N'Grub special through May 20, which includes a round of golf with cart, range balls and lunch at either Partake Café or Clubhouse Grille for $99 per person.
This article originally appeared in Orlando Family Magazine's May 2018 issue.