New Excitement and More Adventure
Orlandoans are lucky. Living right in the heart of the most visited city in the United States (yep, we've beaten the Big Apple for number of visitors), there are always new attractions to check out at the theme parks as well as fresh offerings all around the tourist district. This year's big hitters include Walt Disney World Resort's Toy Story Land and Universal Orlando's Fast & Furious—Supercharged.
We've also seen a slew of exciting announcements from the theme parks about future projects that are officially TBD when it comes to opening dates. But Central Floridians can look forward to a Star Wars land at Hollywood Studios and a new Tron-themed  coaster at the Magic Kingdom in the coming years. And, maybe a Nintendo-themed  park at Universal? Well, the rumors are  out there on that one! Nothing confirmed yet, though.
One thing is certain: Learning about all the marvelous  entertainment and must-do's that are being added to our region's parks will surely make you want to become an annual pass holder—if you're not one already. So, proceed with caution.
Walt Disney World Resort
Disney's Hollywood Studios is the park to watch at the moment. With the  two beloved franchises of Star Wars and Toy Story getting their own little lands within the theme park, ticket sales will surely hit an all-time high in the next two years. But that is not all Mickey Mouse has planned for us as there are plenty of other attractions coming to all the parks this year and post-2018.
HOLLYWOOD STUDIOS: This summer you can soar to infinity and beyond at Disney's new Toy Story Land. The 11-acre land is designed as the adventurous outdoors of Andy's backyard where you'll be surrounded by oversized building blocks and giant game board pieces while you interact with Woody, Buzz Lightyear and all the loveable toy characters from the Toy Story movies. Announced rides include a family-friendly coaster called the Slinky Dog Dash and  the Alien Swirling Saucers. Woody's Lunch Box, a quick-serve kiosk that is shaped like an old retro tin lunch container, will serve old-fashioned soda floats and meals. You won't have to wait much longer to explore this world of toys and childhood nostalgia; Toy Story Land will open to the public on June 30. A little further out in the future (or is it a long time ago in a galaxy far, far away?), Star Wars: Galaxy's Edge will also open at Hollywood Studios, but not until 2019. Details are still being released, but so far we know guests will be able to interact with several characters including Chewbacca, BB-8 and Kylo Ren. There are two announced attractions. One will put people in the pilot seat of the Millennium Falcon where   they can shoot blasters and prepare for hyperspace, and the other will give guests the experience of being inside hangar bay on the Star Destroyer.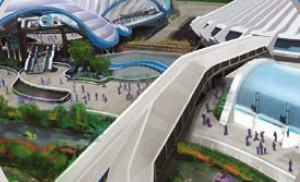 MAGIC KINGDOM: The most popular attraction at Shanghai Disneyland is coming to the most magical place on earth. Modeled after Shanghai's beloved Tron Light Cycle Power Run roller coaster, this attraction is set to be located right by Space Mountain. Not many details have been released but here's what we can possibly expect: a coaster-like experience where riders board a train of two-wheeled Light Cycles for a trip through Tron's high-tech universe of bright lights and fast action. However, Central Floridians will have to hit the brakes for now because this attraction is not set to open any time soon. Disney says the plan is to  have it built and functioning by Walt Disney World's 50th anniversary in 2021.
ANIMAL KINGDOM: Celebrating its 20th anniversary  this year, Disney's Animal Kingdom will officially begin festivities on Earth Day, April 22, with the debut of its brand-new UP! A Great Bird Adventure, a show that will feature Russell and Dug from the Academy Award-winning animated film Up. The show will be performed multiple times a day and will include encounters with exotic birds from around the world.  Animal Kingdom will also mark the one-year anniversary of the opening of Pandora-The World of Avatar on Memorial Day. This part of the park has been a huge hit with its 3-D rides and exotic landscaping that make you feel like you've walked right into the movie Avatar.
EPCOT: A Guardians of the Galaxy roller coaster is  heading to this park. Guardians of the Galaxy-Mission: BREAKOUT! is supposed to be the world's longest enclosed roller coaster and will be set in Epcot's Future World. And a rat named Remy will be infiltrating the France Pavilion in World Showcase with a new Ratatouille-inspired 4-D experience that will shrink guests to Remy's size and have them scurry to safety in a chase across the kitchen featuring the sights, sounds and smells of Gusteau's Parisian restaurant. Both attractions do not have opening dates yet but according to Disney leaders, they will both be open by 2021.
These announced attractions are surely the first of many more to come as Disney is working to transform Epcot into a place that is more family-friendly and relevant.
DISNEY SPRINGS: Outdoor shopping, dining and entertainment complex Disney Springs has some exciting new dining offerings slated for this year. First up is the highly anticipated Wine Bar George. Headed by master sommelier George Miliotes, the bar will feature shareable small plates and more than 100 different wine selections. It is set to debut this spring.  Also noteworthy is Terralina Crafted Italian that will be appearing on the scene this winter. James Beard Award-winning chef Tony Mantuano will helm this eatery that will have wood-burning ovens and a selection  of hand-tossed pizzas, housemade pasta and plenty of other Italian favorites.
Universal Orlando Resort
Universal Orlando opened its new water park Volcano Bay last year right in time for the summer crowds. With its water park poised to capitalize on a second summer of operation, Universal execs have  turned their attention to bringing a new exciting attraction to Universal Studios and something delectable and delicious to City Walk.
The real question though is when Universal will announce its intention to bring us a Nintendo-themed land. As you may know, the company broke ground last year on Super  Nintendo World at Universal Studios Japan. And then last year it was reported that Universal Orlando had filed building permits that appear to be for a possible Nintendo land to be located behind Springfield, the park's Simpsons-themed area.
Only time will tell if we'll see some space devoted to Mario and Luigi but in the meantime, here's what else you can expect.
UNIVERSAL STUDIOS FLORIDA: Fast & Furious– Supercharged will speed into Universal Studios this spring. In this high-octane experience, you'll be able to get up close to Dom's Dodge Charger, Letty's Turbo Truck and all the other cast members' iconic rides. The attraction will culminate in  a high-speed race that puts riders in the middle of the action as villain Owen Shaw pursues you while the  members of the Fast & Furious gang work together to battle it out with their arch-nemesis and get you to safety.
THE WIZARDING WORLD OF HARRY POTTER: On select nights throughout 2018, Harry Potter fans can enjoy The Nighttime Lights at Hogwarts Castle. Through state-of-the-art projection mapping, special effects and lighting, the show wraps the Hogwarts castle in a breathtaking display that celebrates all four Hogwarts' houses: Gryffindor, Ravenclaw, Hufflepuff and Slytherin. The lights show is set to the original scores of the Harry Potter movies. Theme-park goers should check Universal's website for dates.
CITYWALK: Voodoo Doughnuts, a donut shop from Portland, Oregon, with a cult-like following, is coming to Universal Orlando's CityWalk this spring. This location is the first one east of the Mississippi and will feature such favorites as the Bacon Maple Bar, the Grape Afe and the iconic Voodoo Doll donut.
Additional Adventures
Universal and Disney are the behemoths of our city's tourist corridor but there is much more to explore outside the major theme parks at places such as SeaWorld Orlando and Legoland, which are also coming out with new experiences for guests to enjoy in 2018.
SEAWORLD ORLANDO: Infinity Falls, which boasts the world's tallest river rapid drop at a height of 40 feet, plunges into SeaWorld Orlando this summer. The river rafting ride promises to immerse  guests in a lush, freshwater rainforest while educating guests on the importance of water conservation.
AQUATICA: The three-in-one adventure Ray Rush surges into SeaWorld's waterpark this spring. At almost 60 feet tall, this brand-new raft slide launches riders through several enclosed tubes, swirls them around a colossal translucent sphere and then runs them through another enclosed tube section. The ride ends in a splash as the raft is dropped into an open-air halfpipe that is shaped like a manta ray.
LEGOLAND FLORIDA: Just opened last month, The Great Lego Race combines virtual reality technology with a roller coaster that is designed for kids. While riders enjoy animated action through virtual reality headsets, the coaster propels them up, down, forward and backward coinciding with the action of the storyline in which   guests are a part of a wild and wacky race with a LEGO pirate, wizard, surfer and pharaoh.
I-DRIVE: The company that developed the I-Drive 360 complex, which houses the Orlando Eye, is attempting to continue its revitalization of International Drive with a new high-flying ride. Opening on May 11, the 425-foot Starflyer will be located in the Vue at 360, a plaza that is adjacent to the  I-Drive 360 complex. Positioned to be the world's tallest spinning swing ride, the Orlando Starflyer will give people open-air views from high above.
GATORLAND: Take a rugged swamp buggy tour with Gatorland's newest attraction Stompin' Gator OffRoad Adventure. This hilarious, family-friendly  ride  features wacky new Gatorland characters, singing tour guides, swampy adventure, and, of course, lots of gators. Guests will  find this attraction at Gator Joe's Adventure Outpost, a new section of the park that was created during the theme park's recent $2.2 million expansion.
This article originally appeared in Orlando Family Magazine's April 2018 issue.