Palate: February 2018
A quintet of tasty things to try this month AND libations you're sure to love…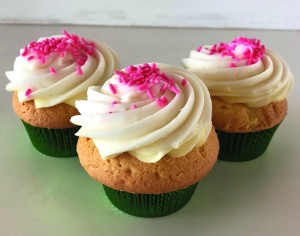 TOP FIVE: CUPCAKES
CHAMPAGNE 'N' BERRIES
AT SUGAR DIVAS CAKERY, WADEVIEW PARK
The cupcakes here are all bite-sized delights, and this pick is no exception. Vanilla cake is infused with champagne flavoring and baked from scratch, then filled with strawberry compote and topped off with vanilla buttercream icing and pink sprinkles.
APRICOT GINGER CUPCAKE
AT BLUE BIRD BAKE SHOP, AUDUBON PARK
The cupcakes are all treated with care at this hidden gem. Vanilla cake is combined with finely chopped ginger pieces and apricot swirl, then topped with ginger-infused cream cheese icing and a sprinkle of candied ginger to finish.
CHOCOLATE MINT CUPCAKE
AT B CUPCAKES, ALTAMONTE SPRINGS
Fans of the distinctive mint and chocolate combination will be right at home with this cupcake. Rich chocolate cake is mixed with mint and baked fresh, then topped with house-made mint buttercream icing and completed with chocolate garnish.
CARROT CAKE CUPCAKE
AT CUPCAKE HEARTS, KISSIMMEE
The flavors here are unique, but we can't get over their classic Carrot Cake. Traditional cake is baked fresh with thin carrots, walnuts and raisins, and topped with sweet vanilla bean cream cheese icing and chopped walnuts.
CHOCOLATE RASPBERRY DONUT CUPCAKE
AT JILLYCAKES, WINTER PARK
Creativity abounds here, and we are grateful that it includes doughnuts. Chocolate cake is filled with raspberry puree, dipped in glaze, then topped with vanilla buttercream icing and more raspberry sauce and fruit to finish.

RAISE A GLASS: BOURBON

THE GODFATHER
AT WHITE WOLF CAFÉ AND BAR, LAKE IVANHOE
This sophisticated entry is sure to be a drink you can't refuse. Bulleit Bourbon is shaken with smooth amaretto, tangy blood orange juice and traditional bitters for an enticing and refined cocktail.

POISON APPLE FLOAT
AT CRAFTED BLOCK & BREW, METRO WEST
You won't be able to resist this forbidden fruit. Succulent Jim Beam Bourbon is combined with cinnamon syrup and apple cider before being poured over a dollop of vanilla ice cream and served in a caramel-rimmed glass.

PORKY' S OLD FASHIONED
AT NONA BLUE MODERN TAVERN, LAKE NONA
Those who enjoy bacon in many forms will be happy with this creation. Knob Creek Maple Bourbon is blended with bacon-infused simple syrup, then mixed with cherry and orange bitters and garnished with candied bacon for the perfect salty-to-sweet ratio.
This article originally appeared in Orlando Family Magazine's February 2018 issue.