An Eye Opener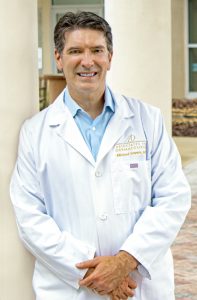 The stress of the pandemic can lead to poor skin conditions, but the expert team at Associates in Dermatology can put you on a path to recovery.
With daily reminders of the harsh realities surrounding the COVID-19 pandemic, it's been hard to hide the worry and fatigue so many of us are dealing with. As both our professional and personal lives have been turned upside down, the levels of increased anxiety we are experiencing can have a very dramatic effect on our well-being. And though it may not be immediately thought of, one of the consequences of all this stress is poor skin health.
Dr. Michael Steppie is the president and medical director of Associates in Dermatology, founded in 1989, and he has an unrivaled passion for serving Central Florida's community through clinical, general and cosmetic dermatology. A board-certified physician who has completed residencies in internal medicine, dermatology and dermatologic surgery and is a highly qualified Mohs micrographic skin cancer surgeon, Dr. Steppie is also a member of the National Psoriasis Foundation and the American Contact Dermatitis Society. He and his experienced team of providers are well-versed in treating a wide variety of dermatologic conditions.
During the pandemic, the area around the eyes has gained plenty of attention and with mask wearing becoming so prevalent, the eyes have become a focal point now that the face is largely hidden. While it's been said many times that the eyes are the window to the soul and can communicate various emotions, the area is also particularly susceptible to damage like wrinkles, dehydration lines, puffiness and other visible signs of aging and fatigue. Thankfully, seeking professional guidance can drastically help those who want to look and feel their best during these trying times.
"Because the skin around the eyes is thinner than the rest of the face and more delicate, it can damage easily," says Dr Steppie. "The skin needs proper care and time to be able to renew and rejuvenate."
To help combat these issues, Dr. Steppie recommends Virtuous Eyes from his Ethereal Beauty skin care regimen. Enriched with a clinically proven blend of antioxidants, moisture boosters and other repairing nutrients, it helps regenerate and revitalize eye contour.
"Not only does it visibly minimize lines, wrinkle depth and volume, but it also fights the appearance of under eye dark circles and puffiness. Day by day, your eye contour seems smoother and more youthful," Dr. Steppie says.
Besides being a widely recognized leader in skin care and skin cancer treatment, Associates in Dermatology provides an array of dermatological services at their 16 Orlando area locations, including treatment of common conditions such as allergic dermatitis, psoriasis, acne, eczema and disease of the hair and nails.
Since the onset of the pandemic, each office location is also following strict sanitizing guidelines and have put patient safety as its No. 1 priority. And for the high-risk population and those who care for them, the practice is still able to provide the high-quality and compassionate care that patients have become accustomed to with a virtual telehealth consultation.
"Telemedicine has made it possible to stay connected with our most vulnerable patients, which is very important to us because we think of them as if they are family," says Dr. Steppie.
Speaking of family, as loved ones start to plan for the holidays, now is a great time to think about the many skin revitalizing procedures offered by Associates in Dermatology. For those looking to put their best face forward this season and reveal a more vibrant look, there are several options ranging from neuromodulators such as Botox or fillers such as Juvéderm to minimize the appearance of volume loss and wrinkles. Another less invasive alternative to help even skin tone and smooth out skin texture are chemical peels, which can treat a wide range of conditions, including blemishes.
Chemical peels are strong and deliver remarkable results," says Dr. Steppie. "Their ability to improve fine lines and renew the skin surface while also boosting collagen and elastin make it an affordable option that addresses varying concerns a patient may have."
No matter your skincare needs, Associates in Dermatology has a team of specialists ready to assist in all areas of the field, from clinical concerns like skin cancer to general and cosmetic options. And you can expect to find a knowledgeable and friendly staff in a welcoming setting.
"We have helped countless patients pinpoint the causes of their issues and retain their confidence," Dr. Steppie says. "We would love to see you to take a closer look at your specific needs to help fade away the fatigue and stress and have you smiling back at life."
Associates in Dermatology
Multiple locations in Central Florida including
Celebration • Dr. Phillips Hunter's Creek • Ocoee
(800) 827-7546 | DermOrlando.com
This article originally appeared in Orlando Family Magazine's October 2020 issue.