Still on Top
With the Backstreet Boys riding high once again, Howie D. talks about Staying Power, the new tour and the inspiration for his first-ever solo children's album.
Howie Dorough is certainly a busy man these days.
The Central Florida native, better known as Howie D. and one-fifth of the pop supergroup the Backstreet Boys, is running short on time as he checks in from the car on his way to rehearsal for the band's upcoming tour. No matter, once the driver arrives to the rehearsal space and brings the vehicle to a stop, he remains in the back eagerly wanting to share his excitement on everything from the tour to his love of Orlando.
More than two decades after they first rose to fame, the Backstreet Boys are back, alright. Actually, you could make the argument they never really left. After all, the group did sell more than 100 million records worldwide and just completed a two-year residency in Las Vegas that was among the biggest selling shows in Sin City's history. The group released its 10th studio album, DNA, earlier this year and saw it skyrocket to No. 1 on the charts, proving they are far from a greatest hits act at this point in their career.
Their upcoming tour includes a stop here at the Armory Center on Aug. 24 in what will be a special homecoming show for Dorough and the crew who were formed after answering a classified ad in the Orlando Sentinel and made their live debut at SeaWorld the following year.
In addition to all the excitement surrounding the group's resurgence—which includes plans to release a new Christmas album later this year—Dorough is equally excited to have just released a new solo record, his first children's album. Entitled Which One Am I?, the album was inspired by his upbringing as a half Puerto Rican, half Irish kid coupled with the lessons he now tries to impart as the father of two young boys.
"It's an autobiographical story of my life growing up in Orlando, my middle school years and what life was like at a point where I was finding the me I was meant to be. My mom being Puerto Rican and my dad an Irish-American, I was confused. I looked Spanish, but didn't speak Spanish. … I was trying to find my place," he says.
Over the course of a couple conversations, Dorough spoke freely on everything from the Backstreet Boys' longevity and some of his craziest fan interactions to his love affair with Orlando and why he still chooses to make his home in the area.
Q&A
So, you just finished off two years in Las Vegas and jumped right into this new tour, and somehow found time to release a children's record. And the group is releasing a Christmas album; staying pretty busy these days, huh?
(Laughs) I don't give myself too much off time. Right now, with the Backstreet Boys having a second go around and receiving all the love and support, I'm blessed to have this opportunity to get really creative and look at different things at the same time. Backstreet Boys has given me a platform to work on individual stuff and I'm always grateful for the guys and the fans to let me do that.
What inspired you to want to make a children's album and how do you think fans will receive it?
My kids totally inspired me. Once I became a father, something clicked, something changed in me; in my writing, my materials, what I wanted to talk about. I look out in the audience and seeing these Backstreet Boys fans— we all grew up together, they are coming to the concert and they are married with kids and we have kids.
For me, I'm so glad that our fans bring their kids to the concerts, but I really wanted to zone in on something even more family orientated. It kind of happened organically, little by little. … [The record is about] a lot of things that kids can relate to: being shy, being in my sister's shadow, a lot of things that are so relevant right now. It's something for my kids to help them relate and know there's nothing you can't overcome.
Indirectly, as we were writing it, we realized we had a musical and we'll be performing it next year. But this is definitely not your typical lullaby, "Wheels on the Bus" album. It's a little more different. The storyline is my life story, and these songs, the majority of them, will inspire the musical.
Are your children musical at all, do they want to follow in your footsteps do you think?
They both have musical talent. My oldest one, he definitely has the bug. He's been singing since he was a little kid. My sister Polly is a music teacher, she teaches voice lessons and has been teaching him techniques. He sings choir with the church. He even has his own YouTube channel—James the great. He loves it, he has followers … he wants to be on the stage.
You've been involved in the music industry for a while now and the business continues to try and reinvent itself. How do you think it's changed and would you say it's for the better or worse?
When we first started, we were one of the last groups that sold cassette tapes, records and CDs. Now it's online and streaming. It's kind of interesting to have these plaques on my wall; the new artists don't have those.
Online, the social side has definitely changed the way artists are getting out to their fan base, it's much quicker. We would go out and promote a record and we would go to other countries … to do promotion for an album, it would take two-to-three weeks. Now people can just put a message on their social sites and the whole world knows at once. It's been helpful in a lot of ways, but at the same time it's taken away a bit of the true essence of being an artist in the past and paying their dues. I'm very grateful I had that experience; it made us the artists we have become.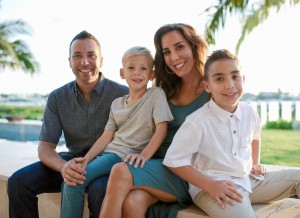 You are from here, so what are some of your favorite memories of growing up in Orlando?
I couldn't think of a better place to grow up. It was just, for me as a kid, it was everything. It shaped my life to be the person I am right now. I went to elementary school and I got in with a couple of friends who were in musical theater. They got me involved with the Edyth Bush Theatre. I started doing musicals all around Central Florida and was very blessed to be in that creative area and realize that I wanted to do this as a profession. I took dance lessons, ballet; I also did acting lessons, I was doing anything I could.
You once worked at Universal Studios, what was that experience like?
One of my last gigs after I graduated high school in 1991, I was at the grand opening of Universal Studios. I worked in the back lot and did the tram tours and I worked with Wayne Brady and did a show at Nickelodeon Studios. They had their own themed show that was like Double Dare, he was the host and I was his assistant bringing people up on stage to get slimed and stuff like that.
Orlando was such a cool place, I got my lucky break at 19 years old with the Backstreet Boys and to see how the movement of the music industry was coming out of Orlando … Seattle had grunge and we had the pop world. I'm still in the Central Florida area. I chose to raise my kids here because I know how special it is.
So many outside people associate Orlando with the theme parks and being a tourist destination, but there's a real sense of community with the people who make their home here. What do you think is maybe one of the under recognized or underappreciated aspects of the area?
I always envisioned myself raising a family here, even after moving out to LA for eight years. Once me and my wife got married and had our first child, I wanted to come back to Central Florida. There's such a great community there, unlike other places I've been where you don't even know your next-door neighbor. In Central Florida, they look out for each other, they bond.
The big incident at [Pulse], that really went to show the world how much Orlando bonds and takes care of each other. I have such fond memories growing up here; the theme parks are just one aspect of it. People think you live in Disney World if you live in Orlando, but you don't hang out every day there. There's so many qualities outside of the attractions.
With the upcoming show at the Amway Center, do you guys get a little extra hyped up in front of the hometown crowd? Are ticket requests through the roof?
Oh yeah, absolutely. I'm actually paying the guys to perform. I remember the first time we came back and played the old arena, I remember this is where my high school graduation ceremony was and to come back and play it is such a great feeling.
Every artist always wants to have success worldwide, even more so in your home country and even more so in your hometown. To have my friends I went to school with that every so often will bump into me in Orlando and say "I'm so proud of you, bro. You really showed what it's like to be someone coming out of Orlando." I'm very proud.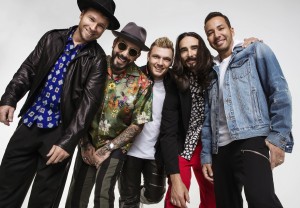 As you all grew older and had families, what is tour life like now versus when you guys first started out?
It's kind of an ongoing joke; instead of bottle service after a show, we have baby bottle service. We have the daycare backstage family room too, it's great. I'm so happy I got to experience life with the Backstreet Boys before I met my wife; they are some memories I will cherish and take with me forever. I saw the world and experienced life. In my 30s, we had kids and I would never change it for the world. Now that I've seen the world a couple times, to take my kids [on these trips], I'm able to see it with fresh eyes and give them an experience that kids dream of. They love being on the road. My oldest son has two passports that most adults dream of. First of all, seeing the world is the best education there is and for my kids, they are so blessed that daddy has this opportunity to do things that a lot of kids don't have the fortune to be able to do.
I'm sure you've had countless encounters with fans, both good and bad, over the years. Any memorable ones that have stuck with you after all this time?
We've been blessed to have so many amazing fans; it's hard to pick one. One thing that jumps off the top my head … we had huge success in Germany when the group first started. I said in a teen magazine that one of my favorite things was Haribo gummy bears and that's where they were from. Fans knew that and they were throwing gummy bears up on stage [at our shows], guys were slipping.
And one time in my 20s, I came home to visit my parents. My house would become a museum, my mom would be giving fans tours of the house. So this one time I was home and this one fan
came with a three-tiered cake made of gummy bears and brought it all the way from Germany. I'm not sure how they got it on the airplane.
Oh, wow. How did it hold up?
It was definitely a little hard. I tried it out of politeness, but it was definitely a couple days old.
She also brought a dog to give to me, but unfortunately I couldn't take the dog.
This article originally appeared in Orlando Family Magazine's August 2019 issue.