Something to Bark About
In the last year, our pets have become an extension of our daily lives unlike ever before. They're our coworkers and support systems, and the regular stars of video meetings and digital gatherings.
So when it comes to grooming and training, it's important to give our pets the best, in a safe setting that puts your dog first. That was the mission of CEO Adrian Rosa when he launched his pet salon and spa, Just 4 Dogs, in 2014.
"I love my pets like family, so I wanted to build something really special," Rosa says. Rosa, who had been in the grooming industry since 2011, built his non-traditional pet grooming salon with the interest of both the dog and the owner in mind, focusing on ease, affordability and quality.
Stress-free service
Those three goals spurred the Just 4 Dogs membership, a monthly program created by Rosa and his team. The membership gives customers access to two grooming appointments a month, the first being a full haircut and the second a bath, brush and blow-dry to keep your dog stylish through whatever they get into. Customers can also take advantage of spa amenities, like hot stone massage, hair dying and mud masks, for pups who like a bit of pampering.
"We wanted to make sure our dogs always looked their best, but were also comfortable in the Florida weather," says Rosa. "The membership-based service means we can keep them clean and cool in any climate. And they seem to really love those extra perks like the hot stone massage."
When Rosa launched his business, he saw a lack of convenience across the grooming market. He set to work to change the industry and has stayed focused on new technology and digital offerings to help his customers.
"We were one of the first companies to start online booking at that time, and it changed the game for pet groomers," says Rosa. "We have always strived to be ahead of the curve, keeping the customers informed with automatic calls when the grooming is done and utilizing touchless payments even before COVID-19 made that the norm, so we didn't have to inconvenience anyone when our customers needed us."
Breaking habits
Remaining convenient through COVID-19 has been a major win for Just 4 Dogs, especially with their training offerings. Whether it's a new quarantine puppy or dogs who are struggling to adapt after their owners go back to work in the office, Rosa says that their in-house certified dog trainer is able to build a plan for each pup, including house calls.
"Many of our training customers come from habits or behaviors we notice during grooming," says Rosa. "We help to ease jumping, barking or biting during grooming to make the entire experience more enjoyable for the dog."
Expanding for the future
The last year has proven that Just 4 Dogs is a recession-proof business, as it continues to grow and expand across Florida with four open locations and two more in development. The success has been so great that Rosa has launched his new franchising program. "The response has been overwhelming as we receive daily inquiries from peo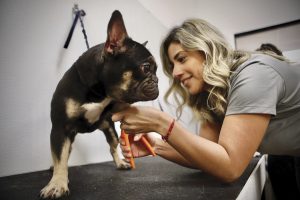 According to franchise veteran Robert Katz with The Stanwood Group, Just 4 Dogs possesses the variables for a successful rollout with its strong customer loyalty, strong regional branding and proven scalability. Combined with the booming pet care services industry, the company is well-positioned to become a formidable player to acquire significant market share in Florida and throughout the Southeast region of the United States. According to the 2019-20 National Pet Owners Survey conducted by the American Pet Products Association (APPA), 67% of U.S. households own a pet. To put it into perspective, that's 85 million families. The pet grooming sector has grown at an annual rate of 4.3% to $9.2 billion.
"There's nothing like going into business on your own, and to be able to do it with dogs and dog lovers is unlike anything else," Rosa says. "Every day you get to meet new people and their four-legged friends. And let's be honest, who doesn't love dogs?"
Just 4 Dogs Salon & Spa
9938 Universal Blvd. | Orlando | (407) 816-7387
12188 Lake Underhill Road |Orlando | (407) 745-4247
47 E. Robinson St. | Orlando | (407) 286-2695
7414 University Blvd. | Winter Park
Just4Dogs.com