The Right Fit
Dr. Clifford P. Clark III, a board-certified plastic surgeon and the medical director of Clark Institute for Aesthetics, has a message for individuals eager to transform their lives.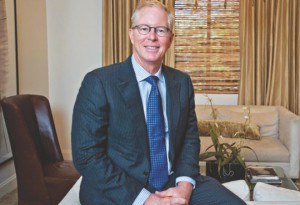 Throughout its lifetime, the human body undergoes a gradual, yet not always graceful, transformation. Facial lines deepen. Eyelids droop. Breasts lose their fullness. Naturally, many people seek out safe and effective means for staving off such changes—and when they do, Clifford P. Clark III, M.D., offers this sage advice: Seek out a skilled practitioner who strives to provide an education as much as an elegant result.
"People often turn to the internet to look for more information in these matters, and the internet is going to put its own spin on things and may even try to 'sell' a patient on a particular therapy," says Dr. Clark, a board-certified plastic surgeon and an associate clinical professor at the University of South Florida in Tampa. "Patients wind up coming away confused, so they start looking for a practice that has a particular technology rather than one with the right expertise. You'd be surprised at how many practitioners who are just out to sell [patients] something, and what they're selling may not be what's right for them."
Dr. Clark is the medical director of Clark Institute for Aesthetics, a Winter Park-based practice with an AAAASF-accredited surgery and laser center in Orlando. The practice offers the full continuum of aesthetic care, ranging from skin care and minimally invasive procedures to the gamut of cosmetic and reconstructive surgery of the face, breast and body. No matter the mode of intervention—a rhinoplasty or a face-lift, a breast augmentation or an abdominoplasty, cosmetic injectables or medical lasers for facial rejuvenation—Dr. Clark strives to deliver a clear, safe path to helping patients achieve a natural-looking result.
As part of that promise, he makes sure all patients are not only realistic in their expectations but also well informed about their options.
"Pick a body part and there may be several treatments on the spectrum that apply," says Dr. Clark, a Miami native who has been in practice since 1994. "If someone is looking to tighten the abdomen, the options might include CoolSculpting, which is noninvasive; or liposuction, which is minimally invasive but still a surgery; or a tummy tuck, where we're removing the skin and tightening a lot. There are some practitioners who might suggest a tummy tuck when the patient might be better served by less invasive treatment.
"That's why it's important to choose a practice that has professional integrity, is patient centric and has cutting-edge technology," he continues. "People also want to go to somebody who will take the time to explain which option may be best for their individual situation."
Dr. Clark has performed a wide variety of surgical and nonsurgical procedures throughout his career, though he now focuses primarily on facial rejuvenation, such as face-lifts, rhinoplasty and blepharoplasty. Clark Institute for Aesthetics takes a team-based approach in which physicians, nurse practitioners and aestheticians collaborate to serve each patient's needs.
"We have a lot of areas with centers of excellence within the practice, and patients can jump in anywhere along that continuum," Dr. Clark adds. "It takes a village to do it right."
The "village" continues to grow with the recent addition of Ellen Robertson, M.D., a board-eligible plastic surgeon and the mother of a 6-month-old son. Dr. Robertson joined the practice after completing a six-year residency at the University of South Florida, where she received training in advanced plastic surgery under Dr. Clark. He characterizes Dr. Robertson as "a brilliant woman" with a curious mind, deep personal and professional integrity, and a tremendous amount of surgical skill, particularly in the area of breast surgery.
Safety has always been of paramount importance, even more so in light of the COVID-19 pandemic. Clark Institute for Aesthetics has adopted strict protocols to protect patients, including the implementation of universal masking and COVID-19 testing for all surgical candidates. In addition, the practice has created a "meticulously choreographed" process in which each arriving patient proceeds directly into an examination room rather than linger in the waiting room.
"People are concerned with plastic surgery in general, so we want to help those people stay safe and make good decisions," Dr. Clark says. "First, we want to understand what the problem is, and then we spend a lot of time educating the patient so they can understand what's possible and make sure they're getting exactly what they're looking for. We want to make sure people have the right fit."
Clark Institute for Aesthetics
701 W. Morse Blvd. | Winter Park
407-629-5555 | ClarkAesthetics.com
This article originally appeared in Orlando Family Magazine's August 2020 issue.